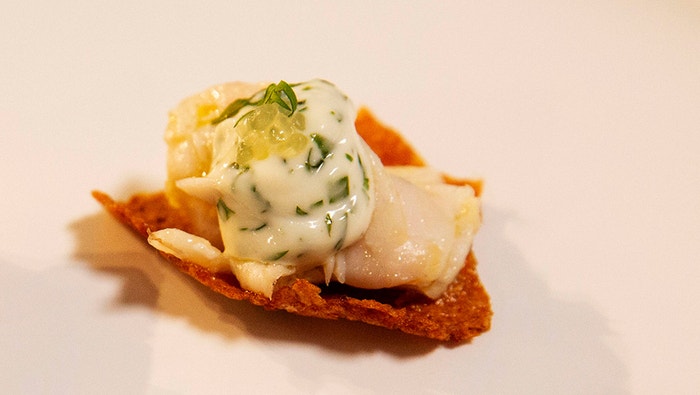 Steps
Preheat oven to 180C.
For the Potato Tuille Cracker, juice potatoes through a slow juicer, reserving the pulp and discarding the juice.
Working in batches, if necessary, place potato pulp between two sheets of baking paper and, using a rolling pin, roll the potato pulp to a thickness of 1-2mm.
Peel off the top sheet of baking paper and transfer the remaining sheet with the potato onto a baking tray. Brush potato with olive oil, season with salt and place in oven to bake until evenly golden brown, about 15 minutes. Remove from oven and set aside to cool.
Once cool, break the potato tuille cracker into rough, bite sized pieces. Set aside until serving.
For the Poached Barramundi, place the barramundi into a medium saucepan in a single layer. Add milk, peppercorns and salt. Set over medium-low heat and bring the milk to a simmer. Simmer for 5 minutes then remove from heat. Let the fish and milk cool to room temperature.
Using a slotted spatula, transfer the fish to a clean flat tray. Flake the fish and drizzle with olive oil. Set aside until serving.
For the Pig's Face Tartare, place the egg, Dijon mustard, lemon juice and salt, into the canister of a stick blender and process until combined.
Add canola oil in a thin stream while processing until emulsified and thick. Add a little water and process, if too thick.
Stir through dill and pigs face and mix to combine. Season with salt then transfer to a piping bag and set aside, in fridge, until serving.
To serve, place the Potato Tuille Crackers onto a large serving platter. Top each with Poached Barramundi flakes, pipe a dollop of Pig's Face Tartare on top, and garnish with some finger lime seeds and dill sprigs.