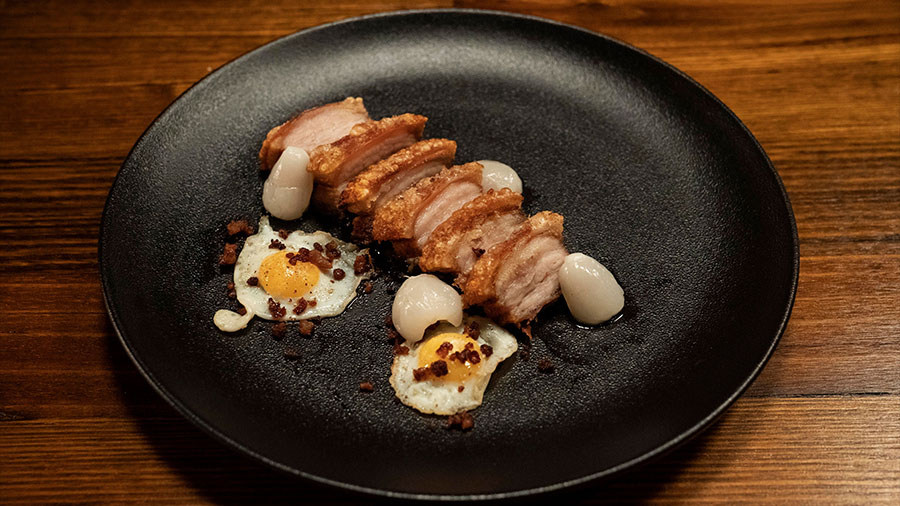 Steps
For the Pork Belly, if possible, leave the pork belly in the fridge overnight, uncovered, to dry out the skin.
Preheat oven to 250C.
Score the skin of the pork belly then cut into 10cm x 10cm pieces, approximately. Salt the skin generously and rub in well.
Place the pork onto a wire rack and place into a roasting dish. Cook in the oven until skin has bubbled and crackled, about 20-25 minutes. Reduce the oven temperature to 200C and cook for 20 minutes. Reduce the oven to 180C and cook until tender, about 10-15 minutes. Remove from the oven and set aside to rest.
For the Crispy Pork Fat, cut the pork fat into 1cm cubes.
Place into a medium frypan and place over medium heat. Allow to cook until fat has rendered and pieces are golden, about 20 minutes. Remove the crispy fat from the pan with a slotted spoon and set aside on paper towel. Reserve the rendered fat in the frypan.
For the Pickled Lychees, place vinegar, sugar, peppercorns and salt into a small saucepan and simmer until reduced by half, about 20 minutes. Remove from the heat then add the lychees. Set aside to pickle until ready to serve then drain well.
For the Lychee Relish, place the vinegar and sugar in a small saucepan over medium heat. Simmer until reduced by half, about 4-5 minutes. Add the remaining ingredients, reduce the heat to low and cook until ingredients reach a jam-like consistency, about 10-12 minutes. Remove from the heat. Using a stick blender, process until thick and smooth and set aside until serving.
For the Fried Quail Eggs, heat the frypan of reserved pork fat over medium heat. Crack the eggs into the hot pork fat and cook as desired. Season with salt then remove from the pan and place onto paper towel.
To serve, slice the Pork Belly into slices and arrange on the serving plates with the Pickled Lychees, Lychee Relish, Fried Quail Eggs and Crispy Pork Fat.