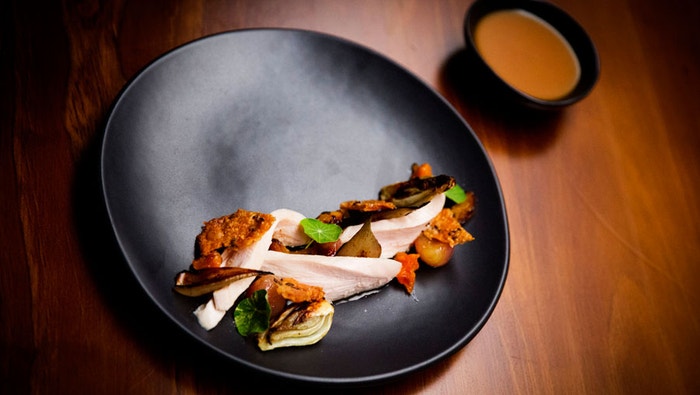 Steps
Preheat oven to 200C. Preheat a sous vide machine to 70C.
For the Chicken, first place chicken skin on a baking tray lined with baking paper. Season with salt, to taste and top with another layer of baking paper and another baking tray to keep the skin flat. Place in the pre-heated oven until golden brown and crisp, about 10 – 12 minutes. Once cooked, remove from oven, lift off top tray and set aside until needed.
Place the chicken breasts, thyme and butter in a sous vide bag and seal to extract the air. Place in the pre-heated sous vide machine and cook for 25 minutes. Once cooked, remove from water bath and allow to rest in the bag for several minutes before serving.
For the Jus, place a large frypan on the stovetop over high heat. Add olive oil and wing pieces and fry until golden brown. Add ¼ cup of water and continue to cook on high until water has evaporated.
Deglaze the pan with the wine, add the chicken stock and all other ingredients, reduce heat and simmer for 10 minutes until reduced. Strain the Jus through a fine sieve. Set aside to keep warm until needed.
For the Fennel, trim fennel bulb, removing stalks and tough outer layers. Cut the fennel bulb into quarters and place on to a baking tray lined with baking paper. Drizzle with olive oil and season to taste. Place in the pre-heated oven until golden and crispy, about 15 minutes. Set aside, keeping warm until needed.
For the Shallots, place shallots and verjus into a small saucepan and place over medium heat. Simmer until the shallots are cooked through and verjus has reduced, about 10 minutes.
For the onions, slice the onion in half and remove the inner layers. Place a medium frypan over medium heat, add olive oil and then onions, cut side down. Fry onions until beginning to char.
Add the thyme sprigs, verjus and 2 tablespoons of water and quickly cover with a lid to create steam. Remove fry pan from heat and set aside, covered, to steam until needed.
For the Fried Apricot, slice the dried apricots in half. Place a small fry pan on the stovetop over medium heat. Add the oil and the apricots and fry gently until apricots are crispy slightly charred.
To serve, remove chicken from sous vide bag. Slice length ways into thick slices and place two slices on each plate, standing on its side. Break up the Fennel quarters and place several segments of fennel around the chicken on each plate. Arrange 3-4 pieces of Fried Apricot on each plate. Place 3 -4 segments of Onion on each plate. Break the chicken skin into shards and arrange 4 shards randomly on each plate. Garnish with nasturtium leaves and serve with warm Jus on the side.