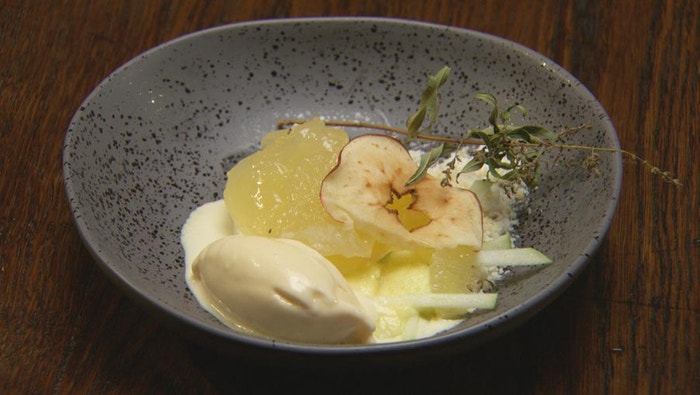 Steps
Preheat oven to 80C.
For the garnish, place lemon verbena stalks and finely sliced cross section of apple on a tray and place in the oven to dehydrate, about 40 minutes. Remove from oven and set aside.
To make the ice cream, place the milk in a saucepan set over medium heat and bring to a simmer. Meanwhile, place the yolks and sugar in a bowl and whisk to combine. Slowly add hot milk to the eggs, while whisking, until combined. Return mixture to the saucepan and return to a medium heat. Continue to cook, stirring, until mixture thickens and coats the back of a spoon. Remove from heat and strain into the bowl of an electric mixer.
Set bowl over an ice bath to cool. Once cool, add mascarpone and mix with paddle attachment until well combined.
With the motor running, carefully add liquid nitrogen to the mixture until set ice cream is formed. Or, alternatively, transfer the mixture to an ice cream machine and process according to the manufacture's instructions. Set aside in the freezer.
Meanwhile, to make the jelly, place the apple juice and lemon juice in a saucepan and set over medium heat until just beginning to boil. Remove from heat, add gelatine and whisk until combined. Strain into a 3cm deep 27 cm x 17 cm tray and transfer to the freezer until set, about 50 minutes.
To make the panna cotta, place the cream, milk, sugar and verbena in a saucepan and set over medium heat. Bring to a simmer, stirring until sugar is dissolved. Remove from heat, add gelatine and whisk to combine. Allow to stand to infuse for 10 minutes. Strain into a flat 1cm deep 27 cm x 17 cm paper lined tray. Place in the freezer to set, about 35 minutes.
To make the snow, place melted chocolate and maltodextrine in a blender and process until a "snow" consistency. Transfer to a bowl, add popping candy and stir to combine. Set aside.
To serve, remove jelly and panna cotta from freezer and cut each into 6 pieces. Place on plate, top with a scoop of ice cream and sprinkle with white chocolate snow. Garnish with dehydrated lemon verbena and apple.