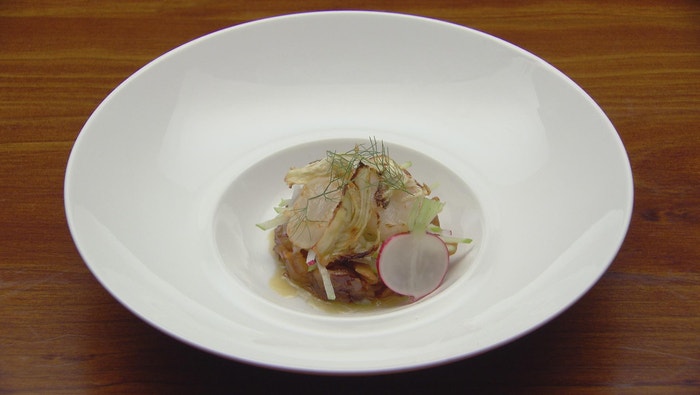 Steps
Preheat oven to 160C.
For the Scallops with Stewed Apple, remove the skin, remove the core, quarter and thinly slice the apples.
Place olive oil and butter into a large saucepan and place over medium heat and sauté apples for 5 minutes. Add cinnamon and thyme and cook until for 2 minutes.
Add brandy and cook until liquid has reduced by half. Add brown sugar and salt, to taste and cook until sugar dissolves. Cook until the apples soften, about 5 minutes.
For the Roasted Fennel, arrange the sliced fennel on a baking tray lined with baking paper.
Drizzle lightly with oil the fennel and season the fennel.
Cook fennel in oven until golden crispy, about 40 minutes. Remove from oven and set aside.
For the Pan Seared Scallops, place a small frypan over high heat and add olive oil.
Add scallops and cook on one side until seared and golden, about 20 seconds. Turn scallops and cook for 5 seconds.
Lightly season with salt and pepper and remove from pan.
For the Thyme Browned Butter, heat the butter in a small saucepan over medium heat until solids in the bottom of the pan and turn slightly brown.
Remove from the heat. When butter cools 80C and add thyme and infuse for 30 minutes. Strain through a fine sieve and reserve butter.
To serve, divide stewed apple between each plate and arrange radish, julienne green apple and fennel on the stewed apples.
Add 3 scallops to each plate and drizzle with Thyme Browned Butter and garnish with fennel fronds.