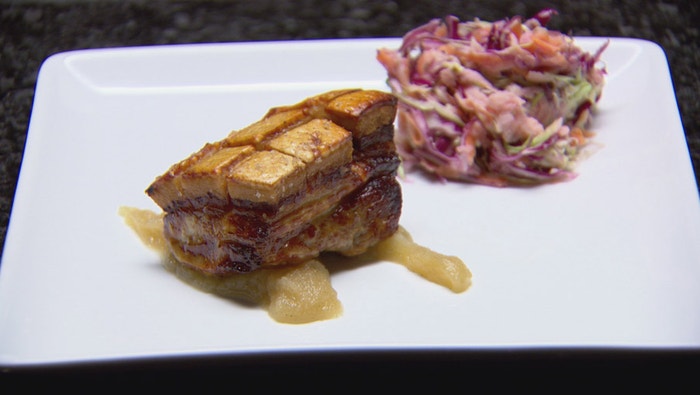 Steps
Preheat oven to 250C.
To make the Crispy Pork Belly, line a baking tray with baking paper. Lay apple slices on tray and top with brown sugar, cinnamon stick, vanilla pod and whisky. Score skin of the pork belly, coat with oil and season with salt. Place pork on top of the apple layer and into the oven until skin is crisp and pork is cooked through, about 45 minutes. Once cooked, remove from oven and set aside to rest.
To make the Apple Puree, place all ingredients and 125ml water into a medium saucepan and cover. Cook on low heat until apples have just softened, about 10 minutes. Remove from heat, discard vanilla and cinnamon and transfer to a food processor. Blitz until smooth then set aside, keeping warm.
To make the Mayonnaise, place yolks and a squeeze of lemon juice into a canister jug and blitz with a stick blender, gradually adding oil until emulsified and pale. Season and set aside.
To make the Coleslaw, combine all ingredients in a bowl. Add mayonnaise and stir through until evenly coated, set aside in the fridge.
To serve, smear apple puree onto plate, top with portion of pork belly and spoon some coleslaw beside.