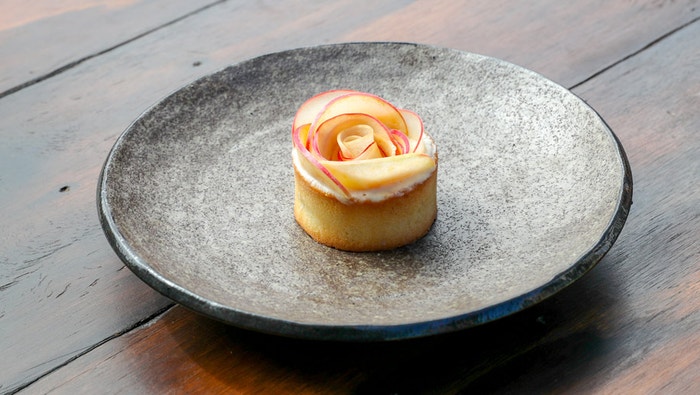 Steps
Preheat oven to 180C.
For the Sweet Crust Pastry, place four x 2.5cm high x 8cm round chef rings onto a baking tray lined with baking paper.
Place the icing sugar, flour and salt in the bowl of a food processor. Process until well combined then add butter and process until mixture resembles breadcrumbs. Add beaten egg and pulse until dough just comes together. Turn out onto a flour dusted work surface and roll out dough thinly. Using a 12cm round cutter, cut four rounds from the dough. Place in prepared rings, pressing out thinly to cover base and sides of rings. Place in freezer for 20 minutes.
Remove from freezer, line pastry with baking paper and baking beads and blind bake for 15 minutes. Remove baking beans and bake until golden, about another 10 minutes. Remove from oven and set aside to cool.
For the Apple Caramel, place sugar in a saucepan and set over low heat. Cook, swirling pan occasionally, until sugar has caramelised and turned a deep amber colour. Add diced apple and sauté for 1 minute. Deglaze the caramel with cream and cook the caramel for 1 minute. Add butter and cook until thickened, about another 3 minutes. Remove from heat and allow to cool.
Pour cooled Apple Caramel into the tart cases until filled half way. Sprinkle with salt flakes and place in fridge to chill.
For the Honey Cream, place the cream and icing sugar in a bowl and whip until slightly thickened. Add honey and whip until stiff peaks. Transfer to a piping bag.
Remove chilled tart cases from fridge and pipe Honey Cream into tart cases filling the other half of the tart and return to fridge.
For the Apple Rose, cut the apples into quarters and discard the core. Slice the apples very thinly and place in a glass bowl of lightly salted water. Place in microwave and cook until the apples are slightly softened, about 1-2 minutes. Drain off water and allow to cool.
To finish tarts, remove tarts from fridge and arrange cooled apple slices on top of Honey Cream to form an Apple Rose.