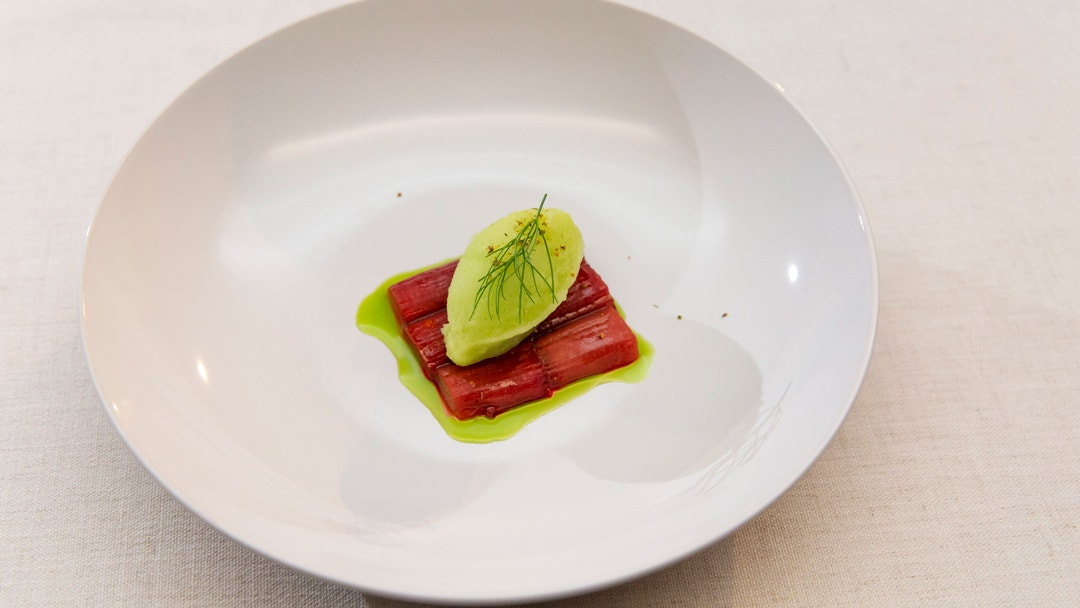 Steps
Prechill ice cream machine. Heat oven to 90C.
For the Apple and Fennel Sorbet, place sugar, glucose syrup and powder and sorbet stabiliser into a small saucepan and bring to the boil. Remove from the heat and add the fresh juices. Cool over an ice bath before pouring into ice cream machine. Churn according to manufacturer's instructions then place sorbet into the freezer.
For the Rhubarb, arrange rhubarb on a lined baking tray and sprinkle with sugar and orange zest. Cover with foil and bake until the rhubarb is soft but still holding its shape, about 40-45 minutes. Remove from the oven and set aside.
For the Bay Leaf Oil, place bay leaves and oil into a blender and process until bright green. Allow to infuse for 25 minutes then pass through a fine sieve into a small bowl.
To serve, place 6 pieces of Roasted Rhubarb onto each serving plate. Top with a rocher of Apple and Fennel Sorbet and drizzle with Bay Leaf Oil. Garnish with fennel fronds and pollen.