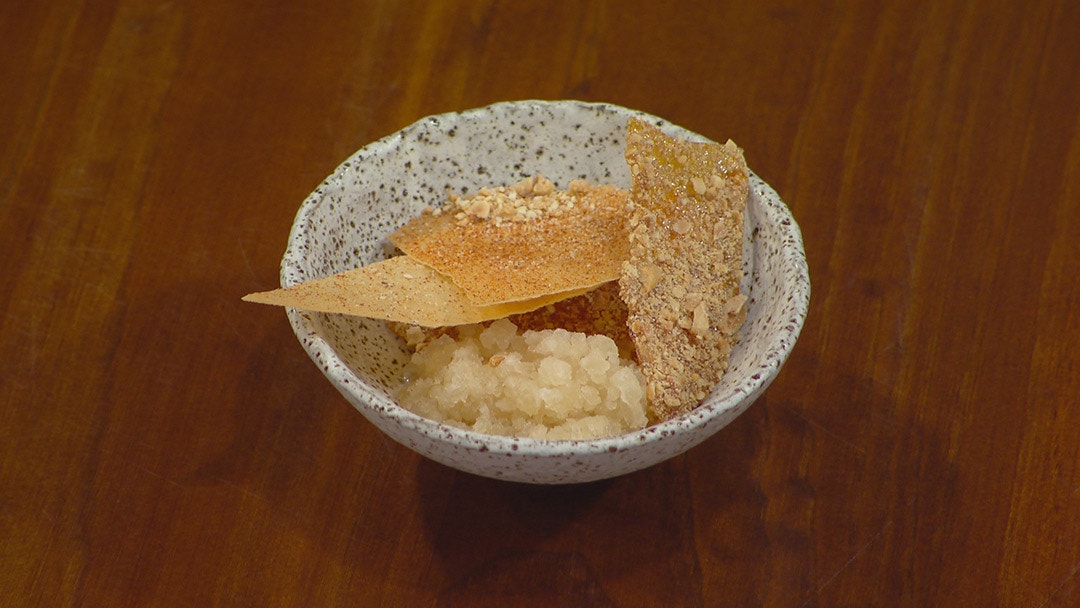 Steps
Prechill ice cream machine. Preheat oven to 180C.
For the Beer Granita, place beer and sugar into a small saucepan over medium heat and stir until sugar melts.
Remove from the heat and pour mixture into a shallow tray and allow to cool on bench. Place into the freezer for 2-3 hours until frozen. Using a fork, scrap the surface several times to form ice crystals. Store in the freezer until needed.
For the Anchovy Ice Cream, place oil into a deep frypan and heat to 170-180C. Add ikan bilis and fry until crisp and golden, approximately 2 minutes. Remove from the oil and drain on paper towel. Set 3 aside for the Chilli Tuille.
Place egg, egg yolks and sugar into the bowl of an electric stand mixer and whisk until pale. Meanwhile, place milk, cream and fried ikan bilis into a medium saucepan and bring to just below boiling point.
Pour half of the milk mixture into the egg mixture, whisking continuously. Return egg mixture to the saucepan. Cook over medium heat, stirring continuously with a silicone spatula until mixture thickens and reaches 83C. Strain mixture into a metal bowl and place over an ice bath to cool. Pour mixture into an ice cream machine and churn according to the manufacturer's instructions. Transfer ice cream to the freezer.
For the Peanut Praline, use a mortar and pestle to crush peanuts roughly.
Place sugar into a medium saucepan over high heat. Swirl pan occasionally until sugar melts to an amber caramel, about 6-9 minutes.
Pour onto a large silpat mat and working quickly, spread out into thin layer then sprinkle with peanuts while still hot. Set aside to cool then break into shards and set aside in an airtight container.
For the Chilli Tuille, combine icing sugar, egg white, flour and butter in a small food processor and process until smooth. Using an offset spatula, spread a very thin 1mm layer of the batter over a silpat mat.
Bake until golden, about 5-7 minutes. Remove from the oven and using a sieve, dust fried ikan bilis and chili powder over the tuille while its cooling. Break into shards and set aside for serving.
To serve, crush some Peanut Praline coarsely and place into the base of serving bowls. Top with a quenelle of Anchovy Ice Cream. Place a large shard of praline over the ice cream, spoon some Beer Granita over the top and finish with Chilli Tuilles.