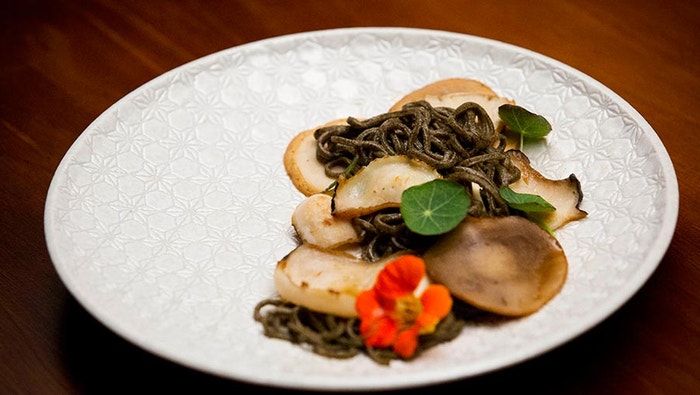 Steps
For the Green Tea Noodles, combine dry ingredients and egg in a food processor and blitz to combine. Add up to 1/3 cup water until dough comes together.
Transfer dough to a clean work surface and knead together to form a ball. Wrap in cling film and rest in fridge for 15 minutes.
Once rested, remove from fridge and cut dough into quarters. Dust each piece generously with extra potato starch then pass dough through pasta machine 3 times then through cutter attachment to form noodles. Set noodles aside on pasta stand to dry until needed.
For the Abalone and Mushrooms, first trim the abalone edges and place the trimmings in a medium saucepan for the Dashi Stock. Place trimmed abalone into freezer to firm for slicing.
For the Dashi Broth, add bonito, dried shiitake mushrooms, kombu, dashi stock powder and 3 cups water to the saucepan with abalone trimmings. Place over high heat, bring to the boil and simmer for 10 minutes. Season to taste, strain through a fine sieve and discard the solids.
Return the broth to a clean saucepan and place over medium heat. Simmer for 15 minutes or until stock is reduced by half.
Once reduced, add mirin, sake, rice wine vinegar and caster sugar and stir well. Simmer for a further 5 minutes or until sugar has completely dissolved. Set aside and keep warm until needed.
For the Abalone and Mushrooms, remove abalone form freezer and slice thinly and set aside on kitchen paper until needed.
Chop bacon to a fine dice and fry in a medium frypan over low heat to render the fat. Remove bacon from the pan, leaving rendered bacon fat in the pan. Reserve bacon for another use.
Add sliced mushrooms to the pan of bacon fat, increase heat to medium and cook about 3 – 4 minutes, or until tender and golden. Remove the mushrooms from the pan and keep warm until needed.
Increase frypan heat to high, add thawed abalone slices and sear, in batches, turning once until just golden. Remove from pan and set aside until needed.
Bring a large saucepan of salted water to the boil.
Cook Green Tea Noodles in boiling water for 3-4 minutes, or until al dente. Drain and toss noodles in warm dashi broth to coat.
To serve, remove the Green Tea Noodles from the Dashi Broth and and divide evenly between 4 noodle bowls. Ladle in enough Dashi Broth into the bowls to come ¾ of the way to the top of the noodles.
Top the noodles with the Abalone and Mushrooms and drizzle with a little extra Dashi Broth over the top. Garnish with nasturtium leaves and flowers.