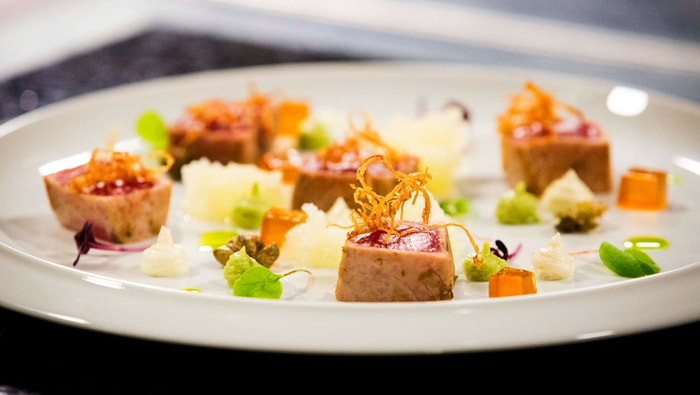 Steps
To make the Yuzu Granita, combine all ingredients in a small saucepan and heat, stirring occasionally, until sugar has dissolved. Remove from heat and pour into a small shallow tray. Place into the freezer until set. Once set, use a fork to scrape surface of granita into small flakes, repeat this process every 15 minutes until required for plating.
To make the Ponzu Jelly, combine ponzu kombu sauce, yuzu juice and 50ml of water into a small saucepan over low heat and bring to a simmer. Remove from heat, add agar and whisk in until well combined. Pour into a 7x3cm tray and into the fridge until set. Remove from fridge and cut jelly into 6mm x 6mm cubes and set aside on a lined tray in the fridge.
To make the Avocado Wasabi, place avocado, wasabi and lemon juice in a bowl and mix well until smooth. Pass through a fine sieve and season to taste. Transfer to a small piping bag and set aside.
To make the Goats Cheese Crème, mix all ingredients in a bowl until well combined, season to taste. Transfer to a piping bag and set aside in fridge.
To make the Parsley Oil, prepare a bowl of iced water and set aside. Bring a small saucepan of water to the boil then remove from heat. Holding the stem of the parsley, dip leaves into the boiling water for 20 seconds then plunge straight into ice bath. Pick leaves and place into a paper towel, discard stalks. Squeeze leaves in paper towel to remove excess moisture and place into a blender with a lemon juice, oil and a pinch of salt. Blend until smooth.
Prepare a fine sieve lined with muslin cloth and sit over a bowl. Transfer blended parsley oil into sieve and set aside in fridge to drip through.
To make the Tuna Marinade, place all ingredients into a mortar and pestle and grind until smooth. Transfer to a bowl and set aside.
To prepare the Caper Flowers, pat capers dry and roll in a tea towel gently to open capers. Heat oil in a small saucepan to 200C. Add capers and fry until crisp, about 1 minute. Remove from oil and set aside on paper towel. Reserve oil on heat for the ginger.
To make the Crispy Ginger, add ginger pieces to oil and fry off until crisp. Remove from oil and set aside on paper towel.
To make the Tuna Tataki, cut tuna steaks into 2 x 2cm wide rectangular strips and add to bowl of marinade. Mix through gently to coat and allow to sit for 5 minutes.
Meanwhile, heat a medium frypan over medium heat until hot.
Place marinated tuna into pan and sear for 10 seconds on each side then remove from pan and set aside to rest.
To serve, slice tuna into 2cm thick pieces and arrange around the plate. Pipe dots of cream and wasabi around the plate. Add pieces of the ponzu jelly, caper flowers and parsley oil and micro herbs. Finish with a few spoonfuls of granita.