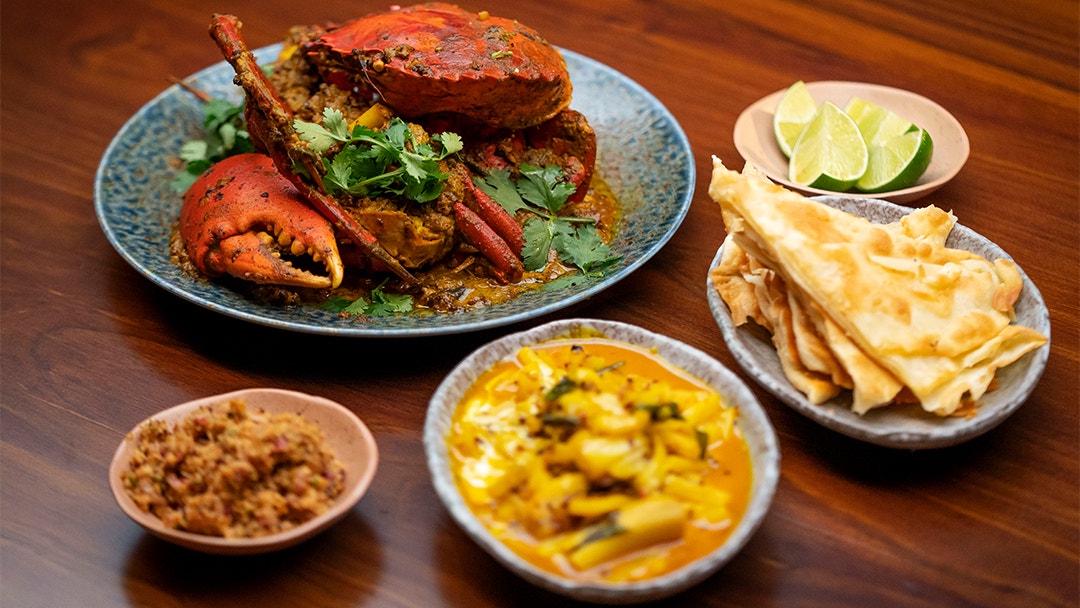 Steps
For the Roti Bread, place the flour, egg, salt and 1 cup water into the bowl of an electric stand mixer fitted with the paddle attachment. Mix on low speed to bring the ingredients together then increase the speed to medium as the dough comes together, add a little more water if required. The dough should be smooth and come together as a ball without being too sticky.
Continue to knead dough in mixer until dough is smooth and bounces back when pressed, about 5-7 minutes. Remove from mixer and divide into 6 balls. Place into a medium mixing bowl and cover with vegetable oil. Cover the bowl with cling film and set aside to rest for at least 1 hour. See note.
Brush a little of the sunflower oil onto a clean work surface. Working with one portion of dough at a time, stretch out the dough until thin and transparent (it may tear) then fold the dough onto itself to form a rectangle shape with a few layers. Repeat with the remaining portions.
Heat some of the sunflower oil in a large frypan over medium to high heat. When hot, add the roti dough and fry on each side until crispy and golden. Remove from the pan and place on paper towel to absorb excess oil then season with salt flakes. Add more oil to the pan as required and cook remaining dough. Chop into triangles to serve.
For the Roasted Curry Powder, place all spices into a heavy based frypan over low heat and toast until fragrant and browned in colour and the curry leaves are mostly crispy. Swirl pan occasionally to ensure an even toasting. Remove from the heat and set aside to cool.
For the Sri Lankan Mud Crab, breakdown the mud crab by pulling off top shell, remove gills and clean thoroughly. Chop into 6 pieces, ensuring to crack the large front claws with the back of a large knife.
Place crab into a large bowl and add the coconut cream, 3 tablespoons of Roasted Curry Powder, tamarind, turmeric, chilli powder and salt. Mix well to coat to coat evenly, then place in fridge to marinate for 20 minutes.
Place ghee into a large wok or deep fry pan with fitted lid and place over medium – high heat. When hot, add onion and cook for a 2-3 minutes. Add the garlic and ginger and cook for one minute.
Add the ground spices and seeds, curry leaves, chillies, lemongrass and stir until fragrant. Add the mud crab, pandan leaf and coconut milk and toss well.
Cover with a lid and cook over medium heat until crab has cooked through, about 15 minutes, stirring occasionally. Remove from the heat.
To finish, adjust the seasoning with jaggery, fresh lime juice and salt, to taste. Remove from wok or frypan onto serving platter, finish with fresh coriander.
For the Pineapple Curry, place a medium sized frypan over medium – high heat. When hot, add the coconut oil and onion and sauté for a few minutes. Add the mustard seeds, chilli, turmeric, curry leaves, Maldive fish flakes and lemongrass and cook, stirring, for 2-3 minutes. Add diced pineapple, coconut milk and pandan leaf. Reduce the heat to low and simmer gently until sauce has reduced, about 15 -20 minutes. Remove from heat and place into a bowl to serve.
For the Sambal, place all ingredients into a large mortar and pestle and pound to bring mixture together, avoiding making a paste. Adjust seasoning to taste. Transfer to a small serving bowl.
Serve the bowls of Sri Lankan Mud Crab, Pineapple Curry and Sambal with the Roti on the side.
Note: the dough will be easier to roll out the longer the it sits and rests, ideally a few hours more.