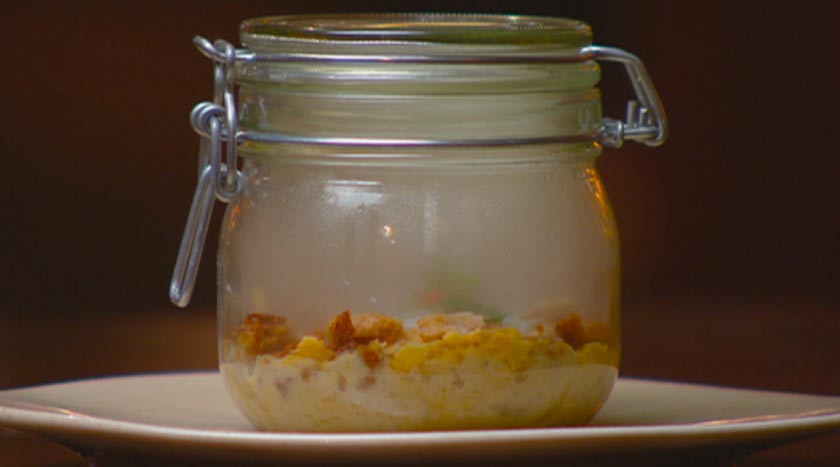 Steps
Preheat oven to to 120C.
Fill a saucepan with water and place over low heat. Using a thermometer, bring water up to 62C. Add 6 eggs and cook for 52 minutes. To keep the temperature at 62C, you may need to turn the heat on and off at times when necessary.
Meanwhile, to make the mushroom custard, melt butter in a saucepan over medium heat. Cook eschalots and finely chopped garlic for 2-3 minutes until eschalots are translucent, stirring regularly. Add field mushrooms, and cook for about 10-12 minutes until liquid has evaporated, stirring regularly. Add chicken stock to pan, and reduce heat to low. Add milk, cream and mushroom powder, and simmer for 10 minutes to allow flavours to infuse, taking care not to allow mixture to boil. Stir in soy sauce, then strain mixture through a fine sieve into a large bowl. Set aside to cool.
Gradually whisk beaten eggs into cooled mushroom mixture until well combined, then divide mixture among jars.
Line a large roasting pan with a tea towel or cloth, and place jars on top. Fill pan with boiling water halfway up the sides of the custard in the jars. Place in oven, and bake for 45-50 minutes or until custard starts to set and has reached 75C. Carefully remove pan from oven and set aside to cool slightly, then refrigerate jars for 20 minutes until cooled, but not cold.
Increase oven to 160C.
Meanwhile, line two trays with baking paper. Rub sourdough slices with remaining garlic clove halves. Arrange slices on 1 tray, drizzle with olive oil, and bake in oven for 20 minutes or until golden brown.
Spread parmesan onto the other tray, and bake in oven for 8-10 minutes or until golden and no longer bubbling.
Meanwhile, for the roe emulsion, crush half the salmon roe in a bowl, then whisk in yolks, vinegar, sugar and a pinch of salt to combine.
Gradually add 60ml (¼ cup) olive oil, whisking constantly until thick and combined. Fold in remaining roe, then set aside.
Divide roe emulsion among jars. Very carefully remove shell from slow cooked eggs and place on top.
Add woodchips to a large saucepan set over high heat. Place steamer attachment on top and cover with a lid. Heat the woodchips until they start to smoke in the pan. Turn off the heat, and in batches, add jars to steamer, cover with lid and smoke for 2 minutes. Set aside and keep warm.
Crumble sourdough croutons and parmesan sheets among jars, garnish with dill, and season to taste with salt and pepper to serve.
Notes
*You will need 6 x 500ml jars about 8cm-wide for this recipe.