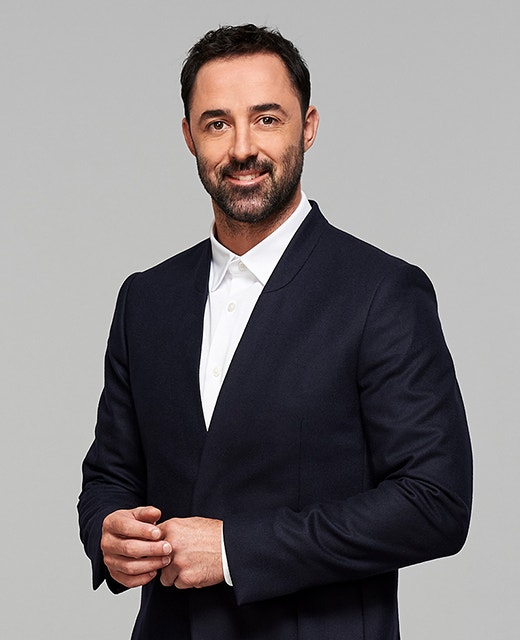 Andy Allen
MasterChef Australia alumni and season four winner, Andy Allen, is the epitome of what television's greatest cooking show is all about.
Before entering the competition as a MasterChef Australia contestant in 2012, Andy was an electrician, but would relish taking time after work to cook for whoever was home and hungry. On most weekends you could find him hosting a BBQ or lunch for mates, and it was a dare from one of those friends to apply for MasterChef Australia, which made him take the plunge.
Throughout his time on the show he read, researched, watched, listened and saw every moment as an opportunity to learn and hone his skills. After eight months in lockdown on the sort of rapid culinary apprenticeship home cooks could only dream of, he was crowned winner of MasterChef Australia (the youngest winner at the time) with a thirst to continue to learn as much as he could.
It took being immersed in the MasterChef kitchen for Andy to realise how much he truly adored food, and that this was where his passion lay. After winning the coveted competition, he took stock of where he wanted to go with his new career, realising he had so much more to discover and desperate to push himself even further.
Since then, he's continued throwing himself headfirst into a variety of challenges – authoring his first cookbook, The Next Element and at the same time started to work part time as a cook at the bustling Sydney café Three Blue Ducks.
Andy was instantly hooked on the fast-paced team environment of the kitchen and the Ducks ethos, so much so that in 2016, he and Three Blue Ducks opened a new venture in Rosebery together. Andy threw everything he had at his new head chef role, going on to become a co-owner of the entire restaurant group. In 2018, the Three Blue Ducks' Rosebery restaurant was awarded an Australian Good Food Guide "chef's hat", making Andy (as its Head Chef) the first MasterChef Australia contestant to be awarded the highly sought-after honour. Andy and the Ducks have since opened restaurants in Byron Bay, Brisbane and Melbourne.
Andy has also presented television shows with fellow MasterChef Australia alumni Ben Milbourne, including Andy And Ben Eat Australia, and Andy And Ben Eat The World, and co-hosted Farm To Fork and more recently, Three Blue Ducks for Network 10.
In 2020, Andy became a judge on MasterChef Australia and Junior MasterChef Australia alongside Melissa Leong and Jock Zonfrillo.
Andy's love for food revolves around knowing where his produce comes from, being as sustainable as possible and making sure each dish is bursting with flavour.
Follow Andy on Instagram@andyallencooks