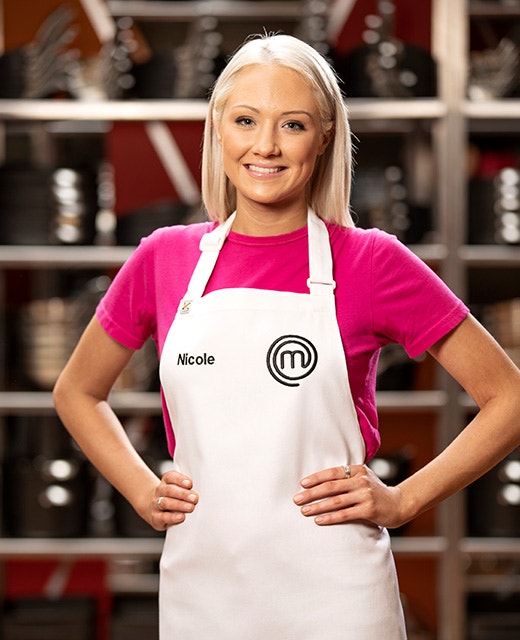 Nicole Scott
State: QLD
Age: 24
Occupation: HR Associate
When Nicole wanted to learn the basics of cooking, she turned to the pros for the best advice. Growing up learning from her culinary idols Nigella Lawson and Massimo Butturo, it was the latter who provided his namesake for her Yorkshire Terrier. But while Massimo the dog might get an extra treat from the kitchen every so often, Nicole is hoping it's just the start of great chefs tasting her dishes in the MasterChef kitchen.
Born and raised in Brisbane, Nicole completed Year 12 at Brisbane Girls Grammar before graduating from the University of Queensland in 2016 with Bachelor's degrees in Psychology and Human Resources. Education was always important in the Scott family - her sister is currently on a scholarship completing her PhD in Neuroscience at Oxford University, and her brother works in mechanical engineering.
As the baby of the family, Nicole says her skills in the kitchen were learnt from TV shows and a family friend who taught her the basics – beef and red wine pies, ice creams and apple crumbles.
Growing up in Queensland, Nicole says she's most confident in the kitchen breaking down seafood and working with protein, but worries about technical dessert elements like gels and foams. She finds savoury cooking more instinctual and easier to correct, and says she adores the rich and buttery nature of French cuisine.
A lover of travel, she hopes her passion for cooking classes overseas can give her an edge in the competition, having cooked in Bali and Sri Lanka, and travelled and eaten her way through Greece, Paris and the United Kingdom.
Leaving behind partner Stanley at home, Nicole says the dream is to open a pet-friendly winery pairing beautiful wines and great food. And when she is home she loves nothing more than walking Massimo and her silky terrier, Bear, hiking and eating out at local hotspots Montrachet and mentor Matt Sinclair's Sum Yung Guys.