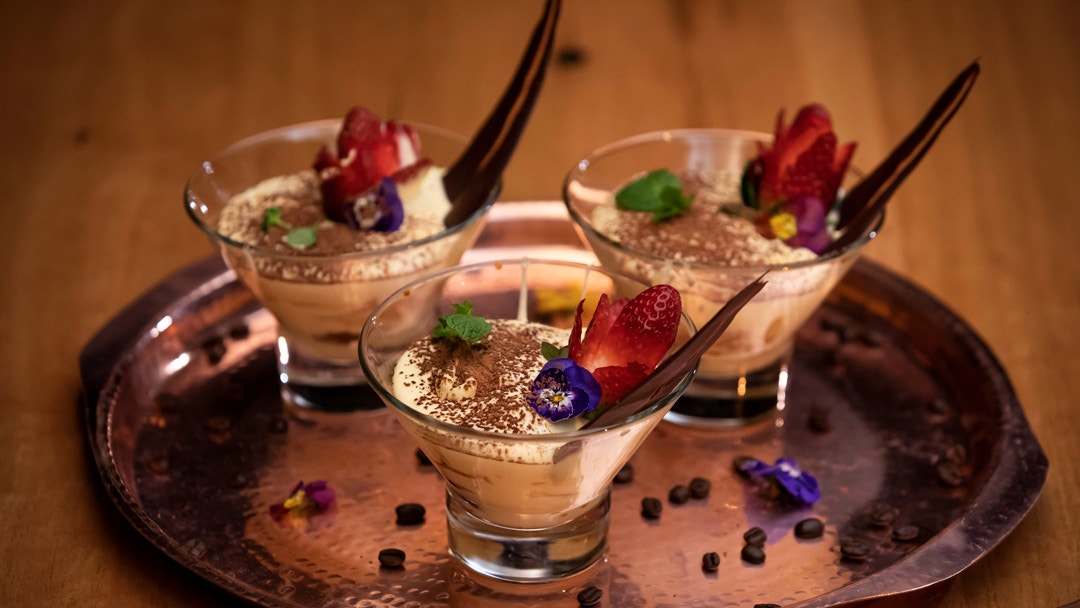 Steps
Preheat oven to 160°C fan forced. Line two oven trays with baking paper.
For the Mascarpone Cream, combine yolks and sugar in a medium bowl and whisk by hand until pale. Add mascarpone and gently fold through. Chill until required.
Meanwhile, place cream in the bowl of a stand mixer with the whisk attachment and whip to stiff peaks. Fold whipped cream through mascarpone mixture. Transfer to a piping bag and chill until required.
For the Coffee Soaked Biscuits, combine boiling water, coffee and caster sugar in a small shallow bowl and stir to dissolve sugar. Freeze until cold.
For the Twisted Tuile, combine all ingredients in the bowl of a stand mixer with the whisk attachment and whip until smooth and pale. Transfer batter to a piping bag with a 1cm round nozzle.
Pipe 15-20cm long lengths onto lined oven tray and bake for 8 minutes or until golden.
One at a time, work quickly to remove tuile from the oven and wrap around a wooden spoon. Set aside to cool. Repeat.
For the Garnishes, spoon 1 tablespoon of chocolate onto lined tray and drag the spoon in a 7-8cm line to give a tear drop shape. Repeat at least 4 times. Freeze until set.
One at a time, stand strawberry on the hull and make small incisions down each side to resemble petals of a rose.
To assemble, dunk the savioardi biscuits in the coffee on both sides. In serving glasses, alternate layers of Mascarpone Cream and soaked biscuits, starting and finishing with the mascarpone and trimming biscuits to fit.
To serve, dust tiramisu with cocoa powder. Arrange chocolate, strawberry and flower garnishes on top of tiramisu and rest tuile on the edge.