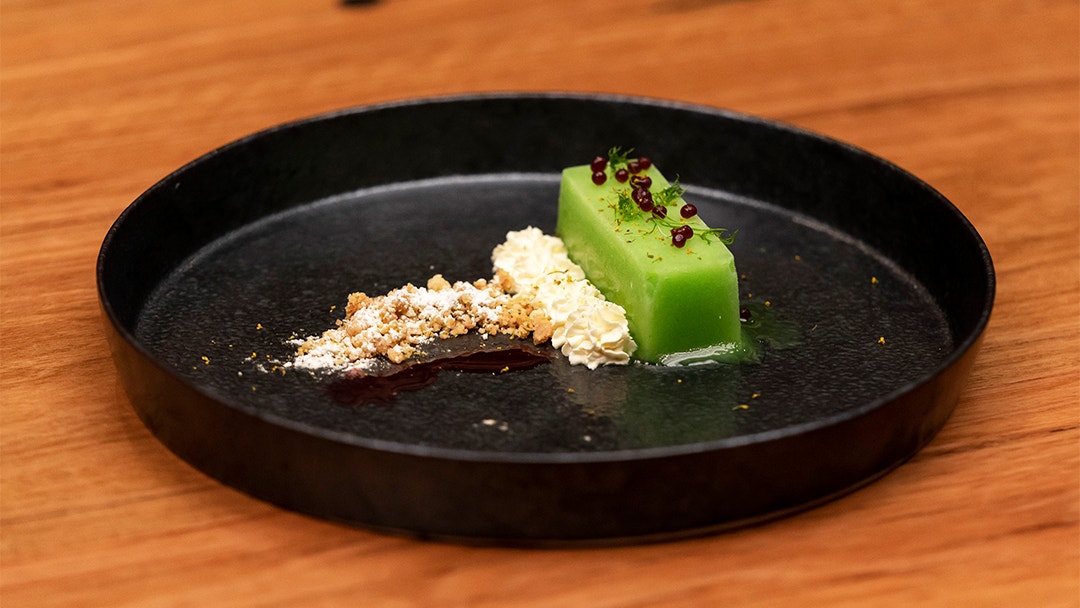 Ingredients
Fennel and Green Apple Sorbet
Blackberry Coulis and Pearls
Steps
Preheat oven to 200°C fan-forced.
For the Fennel and Green Apple Sorbet, pre-chill ice cream machine.
Combine sugar, glucose syrup and stabiliser in a medium saucepan until glucose melts. Add juice and whisk until sugar dissolves. Freeze until cold.
Transfer chilled mixture to an ice cream machine and churn until thick.
Place a sheet of 3cm x 8cm rectangular silicon moulds onto a tray and fill with sorbet, using a palette knife to level. Freeze until solid. Unmould sorbet and freeze until required.
For the Almond Crumb, place slivered almonds on an oven tray and roast for 3 minutes. Set almonds aside to cool. Reduce oven to 180°C fan-forced.
In a spice grinder, process fennel seeds and pollen to a powder.
In a medium bowl, combine butter and sugar and whisk by hand until combined. Add flour, almonds, fennel seeds and fennel pollen and fold through.
Line an oven tray with baking paper and spread crumb over the tray. Bake for 20 minutes or until golden, stirring halfway through. Set aside to cool.
For the Blackberry Coulis and Pearls, half fill a small bowl with grapeseed oil and freeze until cold.
In a small saucepan, combine blackberries, 1 tablespoon sugar and ½ cup of water over high heat for 5 minutes or until blackberries breakdown and liquid simmers. Pass coulis through a fine sieve into a measuring jug, discarding solids. Transfer half the coulis into a small bowl and set aside for the Blackberry Pearls.
For the Blackberry Coulis, place the same saucepan back over high heat and continue to boil until reduced to a syrup consistency. Set aside.
For the Blackberry Pearls, add remaining ¼ cup water, 1 tablespoon sugar and agar agar to a small saucepan and bring to the boil. Add agar agar mixture to the bowl of reserved coulis and whisk to combine.
Remove grapeseed oil from the freezer. Use a pipette to place droplets of mixture into the oil. Set aside for 1 minute before straining pearls and placing on a paper towel lined tray. Set aside.
For the Crème Fraiche Cream, combine crème fraiche, lemon zest, juice and vanilla in a medium bowl and whisk to combine. Transfer cream to a piping bag fitted with a star nozzle and chill until required.
For the Fennel Sherbet, combine fennel pollen, citric acid, bicarbonate soda and icing sugar in a spice grinder and pulse to a powder. Set aside.
To serve, place Fennel and Green Apple Sorbet on serving plate, top with Blackberry Pearls, fennel pollen and fennel fronds. Serve Crème Fraiche Cream, Blackberry Coulis and Almond Crumb beside and sprinkle Fennel Sherbet over Almond Crumb.