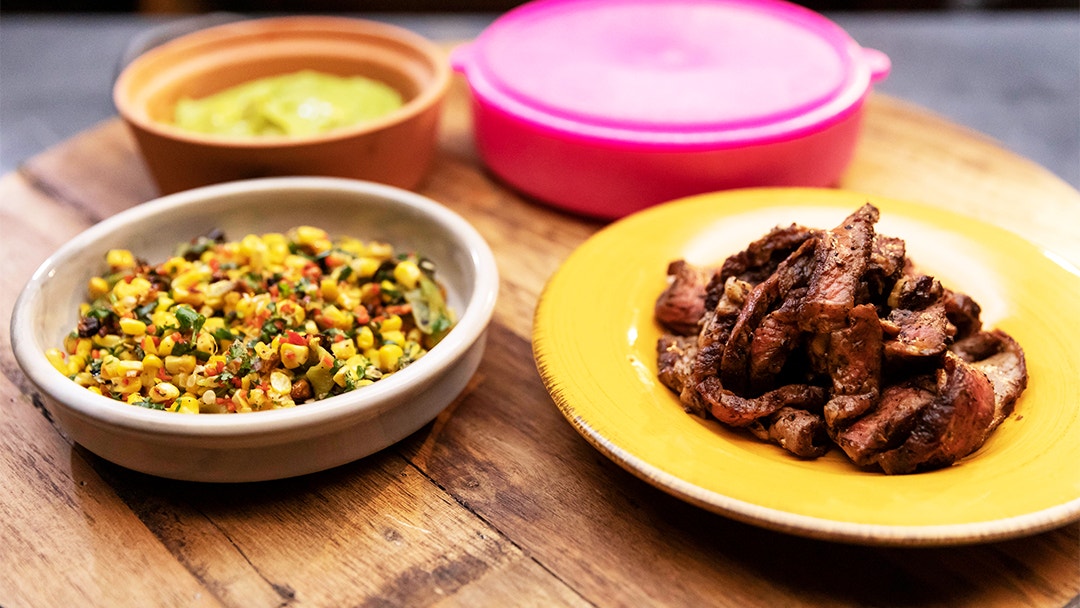 Ingredients
Burnt Jalapeño, Tomatillo and Avocado Cream
Steps
For the Chipotle Steak, place chargrill pan on medium high heat.
For the Wet Rub, combine all ingredients in a small bowl, marinate steak with two thirds of the mix and set aside remaining rub for when steak is cooked.
Drizzle pan with extra virgin olive oil, add steak and cook 2 minutes each side to caramelise. (If using probe thermometer, check internal temperature is 45 degrees for medium rare).
Transfer to cooling rack and rest.
For the Avocado Cream, place cooling rack over an open flame, blacken jalapeño evenly on all sides. Set aside to cool.
Carefully removing seed from avocado, scoop out flesh and add to stick blender canister. Roughly chop tomatillo. Add brine, coriander stems, roots, garlic clove, lime juice and zest, salt and pepper to stick blender canister.
To finish Avocado Cream, scrape off blackened skin from jalapeño using a teaspoon. Slice in half, discarding the stalk, seeds and membrane. Add roughly chopped flesh to canister and blitz with stick blender to a smooth puree.
For the Corn Salsa, turn oven to highest grill setting and place rack on the highest shelf. Using a knife, remove corn from the cob, spread onto a baking tray with the whole bullhorn pepper. Drizzle with extra virgin olive oil, season and toss. Transfer to grill, occasionally turning until corn and pepper are slightly charred. Remove from oven, set aside to cool.
To finish Corn Salsa, add finely diced chilli, coriander leaves, ginger, lime juice and charred corn to medium size bowl. When cool, roughly chop pepper and add to other ingredients, season with salt & pepper and toss to combine.
For the Beef Fat Taco, place a frypan over medium to high heat.
In a bowl add warm, rendered beef fat and hot water to masa flour. (It's important for the water to be hot, otherwise the beef fat will soldify). Season with a good pinch of salt. With a spatula, mix until dough starts to come together. Using your hands, bring dough together until smooth. Portion into 6 x 30g balls.
To finish Tacos, lightly spray two circular pieces of baking paper with extra virgin olive oil and line tortilla press. (you can use a rolling pin in place of tortilla press). Press tortillas and transfer, one at a time, to frypan. Cook for 1 minute on each side or until bubbles appear. Remove from pan and place in a tortilla warmer, repeat with remaining balls.
Cutting against the grain, thinly slice rested steak lengthways. Transfer to a bowl, add remaining wet rub, a pinch of salt and toss. Transfer to serving dish and set aside.
To serve, spread a tablespoon of Avocado cream on a tortilla, add slices of beef and top with corn salsa.