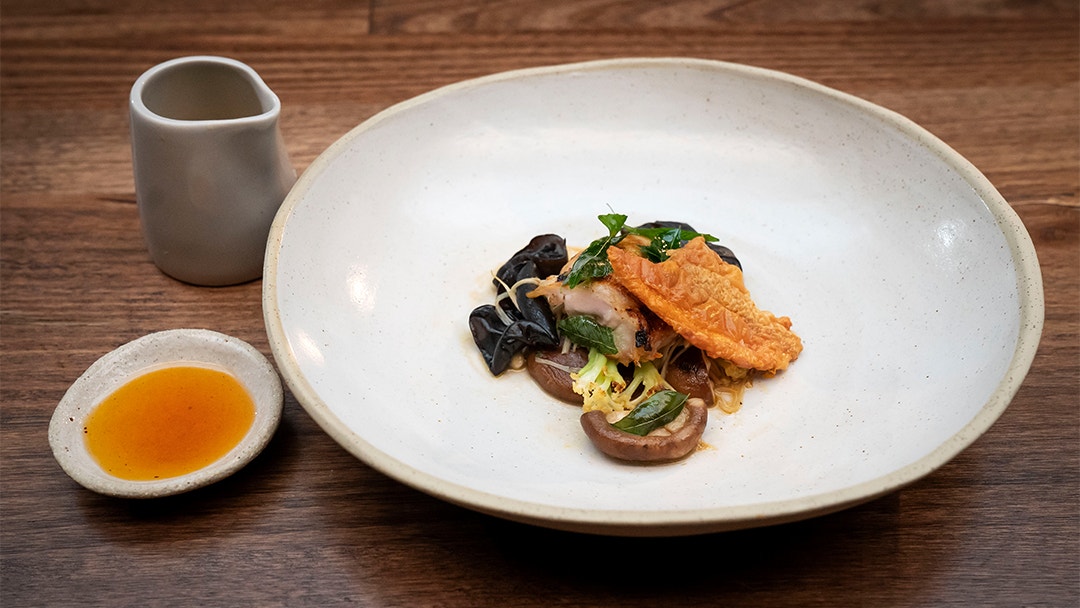 Steps
Preheat the oven to 180°C fan-forced. Line an oven tray with baking paper.
For the Crispy Chicken Skin, make sure there is no meat or excess fat on the chicken skin. Lay skin flat on lined tray and season well with salt. Place a sheet of baking paper and an identical tray on top to sandwich the skin tightly between.
Bake for 30-35 minutes or until golden and crispy. Remove the top tray and baking paper and set skin aside.
For the Chiili Oil, combine grapeseed oil and chillies in a small saucepan and warm over low heat for 5 minutes. Set saucepan aside for 30 minutes.
Transfer chilli oil to a small food processor and process to finely chop chilli. Pass chilli oil through a muslin lined sieve, discarding the solids. Transfer oil to serving jug.
For the Chicken Sauce, warm the oil in a large frypan over high heat. Add carcass to the pan and cook until browned all over. Add onion, carrot, celery, spring onion and garlic and cook until caramelised.
Add ½ cup of the stock to deglaze the pan, scraping to lift sediment from the pan. Add remaining stock, reduce to medium heat and simmer for 10 minutes or until slightly thickened.
Pass the sauce through a fine sieve into a small saucepan over low heat. Whilst whisking, gradually add butter, whisking well to emulsify. Keep warm.
For the Grilled Chicken Thigh, use a mortar and pestle to grind the chilli, ginger and garlic to a fine paste. Add paste to a medium bowl with lime zest and juice and mix. Season with salt. Add chicken, toss to coat then set aside to marinate for 20-25 minutes.
Heat a nonstick frying pan over medium heat. Lift chicken from the marinade and cook thighs for 4-5 minutes each side or until cooked through. Set aside for 2 minutes to rest.
For the Mushroom Stir Fry, heat oil in a large frying pan over high heat. Add chilli and garlic and cook for 30 seconds. Add caulini and oyster, shiitake and black fungus mushrooms. Cook for 2-3 minutes. Add enoki mushrooms and chinese cooking wine, stir through, remove from the heat and set aside.
For the Fried Curry Leaves, quarter fill a small saucepan with oil and warm over high heat. Remove saucepan from the heat, add curry leaves and fry until bubbles stop. Use a slotted spoon to quickly remove leaves before they brown.
To serve, place the Mushroom Stir Fry on serving plates and spoon 1-2 tsp Chicken Sauce over. Place Grilled Chicken Thigh and Crispy Chicken Skin on top. Garnish with Fried Curry Leaves and serve Chilli Oil and remaining Chicken Sauce on the side.