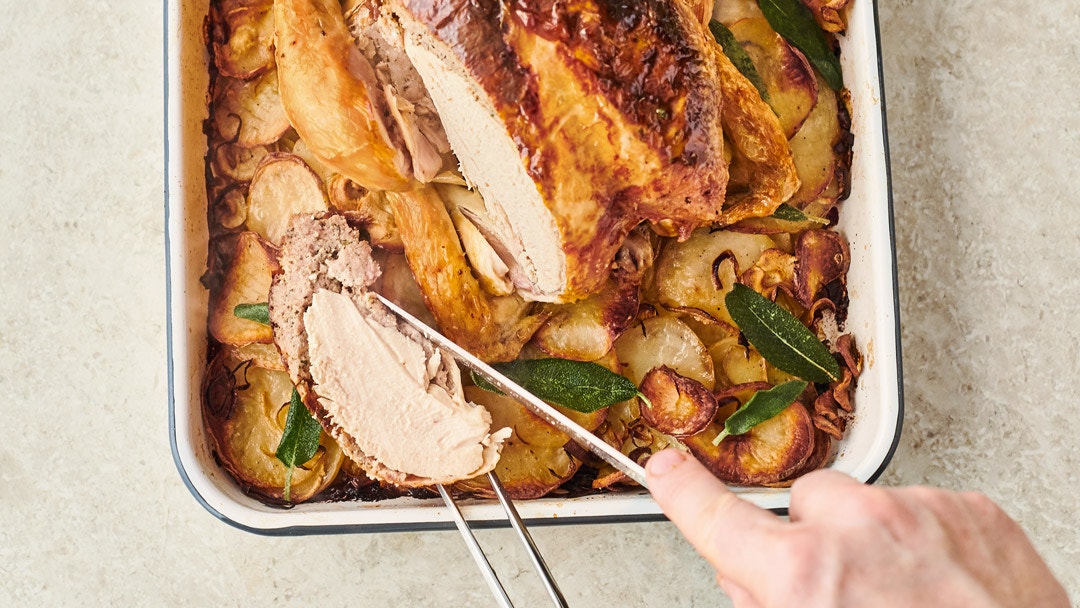 Steps
Preheat the oven to 180ºC. Scrub the potatoes and finely slice, then wash, trim and finely slice the parsnips and leeks. Place it all in a 30cm x 40cm roasting tray, and toss with 2 tablespoons of olive oil, a pinch of sea salt and black pepper and the sage leaves (reserving the stalks and a few leaves for later). Squeeze the sausagemeat out of the skins and scrunch together. Pull up the chicken skin at the tip of the breasts and use a spatula to gently separate the skin down the breast meat, then poke half the sausagemeat into each side, smoothing it out as you go. Secure the skin with a cocktail stick. Rub the chicken all over with a pinch of salt and pepper and 1 tablespoon of oil. Stuff the sage stalks into the chicken cavity. Place the chicken directly on the bars of the oven with the tray of veg underneath, and roast for 1 hour 20 minutes, or until everything is golden and cooked through.
With 10 minutes to go, sprinkle the reserved sage leaves over the tray of veg, so they crisp up nicely. Very finely slice or coarsely grate the pear, and toss with the watercress. Sit the chicken on the veg and serve everything together at the table.
Notes
7 Ways by Jamie Oliver is published by Penguin Random House © Jamie Oliver Enterprises Limited (2020 7 Ways ). Photography: Levon Biss.