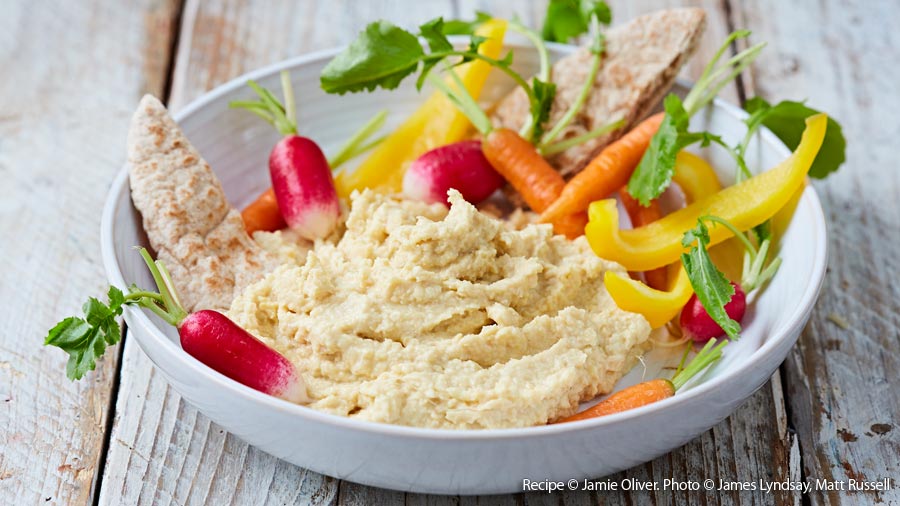 Steps
Drain and tip the chickpeas into a food processor.
Peel and add the garlic, then add the tahini, a good squeeze of lemon juice and 1 tablespoon of oil.
Season with a pinch of sea salt, then pop the lid on and blitz.
Use a spatula to scrape the houmous down the sides of the bowl, then blitz again until smooth.
Have a taste and add more lemon juice or a splash of water to loosen, if needed, then transfer to a serving bowl.
Serve with sliced crunchy veg, such as carrots, cucumbers, radishes or peppers, and some warm flatbreads.
Notes
Vary how you serve your houmous: crunchy vegetables like radishes, raw asparagus, cos lettuce, or even apple are all delicious – see what's in season and experiment.
Snacking the right way is super important, and the same goes for how you choose to hydrate yourself. Rather than drinking sugary fizzy drinks to fill you up, try flavouring water instead. It can be super exciting – try adding fresh strawberries and mint leaves, sliced citrus fruits or refreshing cucumber, and even pomegranate seeds for a fun, tasty and healthy way to stay hydrated.
Be a part of Jamie's Food Revolution. Get involved and cook Jamie's nutritious Food Revolution recipes to learn the skills you need to cook healthy food for years to come.
Jamie's Food Revolution Day Recipe © 2016 Jamie Oliver Enterprises Limited. Photography by James Lyndsay & Matt Russell.