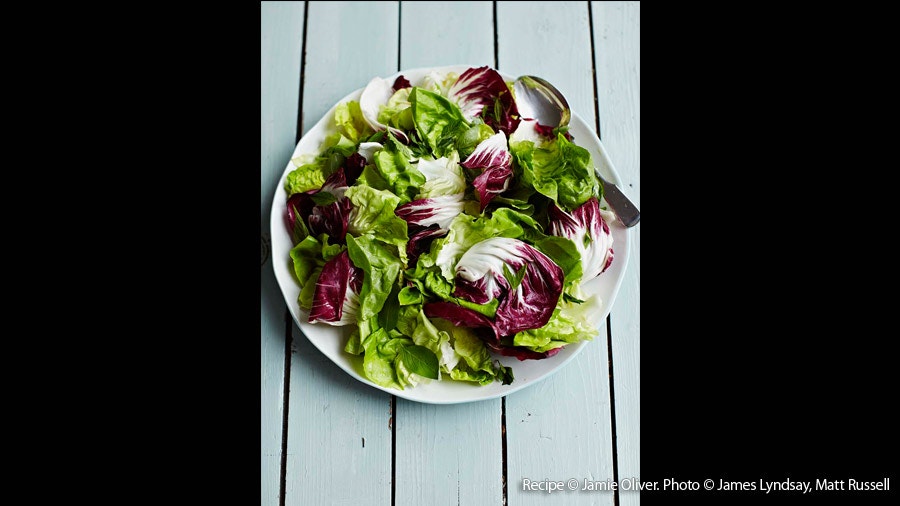 Steps
To make the dressing, halve the lemon, then squeeze the juice into an empty jam jar, using your fingers to catch any pips.
Add the oil and a pinch of sea salt and black pepper to the jar.
Put the lid securely on the jar and shake well.
Have a taste and see whether you think it needs a bit more lemon juice or oil – you want it to be slightly too acidic, so that it's still nice and zingy once you've dressed your salad leaves.
Use a knife to trim the roots away from all the lettuces. Separate out the leaves, throwing any tatty ones away.
Pop them in a colander and give them a good wash under cold running water over the sink.
Spin them dry in a salad spinner, or wrap in a clean tea towel and shake dry, then pile the leaves into a large salad bowl.
Pick and add the herbs to the bowl, discarding the stalks.
From a height, drizzle 3 tablespoons of the dressing over the leaves and gently toss together with the tips of your fingers until every leaf is coated – try not to be heavy-handed and don't be tempted to overdress or the leaves will go limp.
Have a taste and add a splash more dressing, if needed – remember you can always add more but you can't take it away, so be cautious. Pop the lid securely on the jam jar and keep the leftover dressing in the fridge for another day. Serve the salad straightaway.
Notes
Although you don't need to, you can always add extras like cooked green beans or sweet raw peas – see what's growing in your garden and go with what looks best.
Be a part of Jamie's Food Revolution. Get involved and cook Jamie's nutritious Food Revolution recipes to learn the skills you need to cook healthy food for years to come.
Jamie's Food Revolution Day Recipe © 2016 Jamie Oliver Enterprises Limited. Photography by James Lyndsay & Matt Russell.