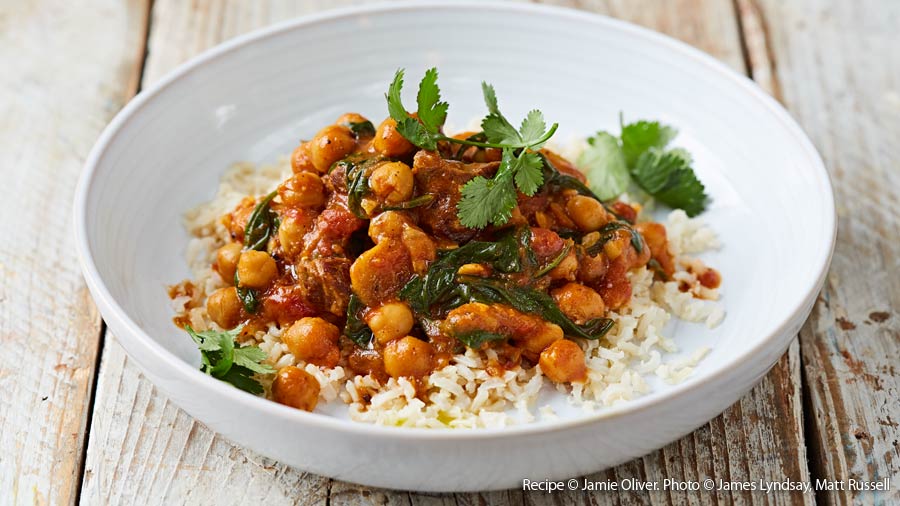 Steps
Heat 1 tablespoon of oil in a large, deep pan over a medium heat, then add the lamb, spices and curry powder.
Cook gently for 15 minutes, or until browned all over, stirring occasionally. Meanwhile...
Peel and finely slice the ginger, garlic and onions.
Add the sliced ingredients and curry leaves to the pan, then cook for a further 10 to 15 minutes, or until softened, stirring occasionally.
Tip in the chickpeas (and their juice), then crumble in the stock cube. Pour in the tomatoes and 1 tin's worth of hot water.
Season lightly with sea salt and black pepper, then slowly bring to the boil, breaking up the tomatoes with the back of a spoon.
Cover with a lid, reduce the heat to low, and simmer gently for 1 hour 30 minutes, or until the lamb is tender and the sauce has thickened and reduced, occasionally stirring and scraping any bits from the bottom of the pan.
Add the coconut milk and spinach to the pan, stir well, then bring just back to the boil.
Have a taste and season to perfection, then tear the coriander leaves over the top. Delicious served with brown basmati rice.
Notes
Bulking out your curries or stews with pulses and beans is a great way to make your meals go further and save money. Double bonus!
Be a part of Jamie's Food Revolution. Get involved and cook Jamie's nutritious Food Revolution recipes to learn the skills you need to cook healthy food for years to come.
Jamie's Food Revolution Day Recipe © 2016 Jamie Oliver Enterprises Limited. Photography by James Lyndsay & Matt Russell.