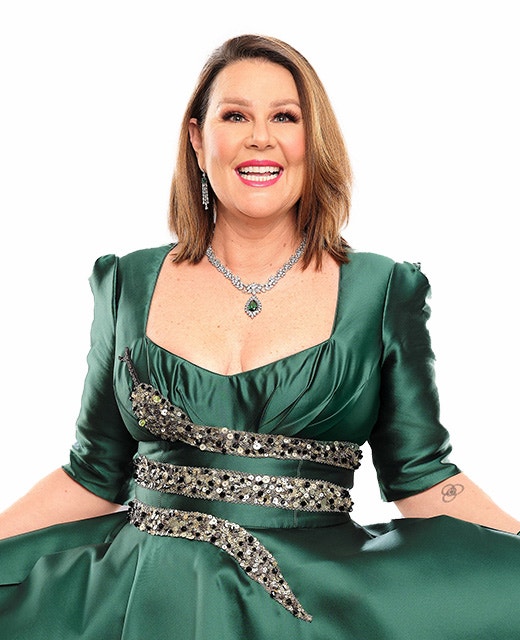 Julia Morris
Julia Morris is one of Australia's most accomplished and celebrated performers.
A quadruple threat, Julia has seamlessly moved between the stage and screen for over 34 years.
Julia first appeared on Aussie television at age 17, singing on the talent show New Faces. By the mid-nineties Julia was a household name as a headlining stand-up and actor, with starring roles in comedy sketch favourite Full Frontal, night-time talk show In Melbourne Tonight and comedy panel show, Beauty and the Beast.
As a stand-up comedian, Julia has featured in every major comedy festival in the world, taking to the stage with Whoopi Goldberg, Richard Pryor and Robin Williams.
Moving to London in 2000, 'Lady JMo' featured in several British sitcoms, co-hosted Liquid News, a daily entertainment show on the BBC, while also featuring on several comedy panels including Stephen Fry's QI.
Her 2001 solo show won the prestigious Herald Angel Award at the Edinburgh Comedy Festival. With a groundswell of comedy fans, Julia also won Time Out London's Comedy Performer of the Year.
In 2008, Julia and Australian Opera star David Hobson won celebrity singing show, It Takes Two.
Having won Best Australian Act at the Time Out Sydney 2009 Comedy Awards, Julia relocated her family to Los Angeles, where she studied with Hollywood acting coach, Lesly Kahn.
In late 2011 Julia returned home to become Australia's very first Celebrity Apprentice, raising nearly $200,000 for breast cancer research. By the following year, Julia was cast as the female lead, Gemma Crabb, in the hit drama House Husbands. The show established itself as an audience favourite, with Julia being nominated for Most Popular Actress in Australia's TV Week Logie Awards for five years in a row.
In 2013 Julia hosted Australia's Got Talent. The same year, her No Judgement stand-up tour won the Helpmann Award for Best Comedy.
Julia has co-hosted Network 10's hit reality show, I'm A Celebrity… Get Me Out Of Here! since it first ventured into the jungle in 2015.
In 2020, Julia appeared as Kitten on The Masked Singer, making it to the top 4 in the semi-finals before being unmasked.
Following this, Julia released the Audible original, Julia Morris Makes it EASY as an audiobook and paperback out in bookstores through HarperCollins Australia.
Julia lives in Melbourne with her family and their dog, Tootsie
Follow Julia on Twitter: @Ladyjmo Instagram: @Ladyjuliamorris