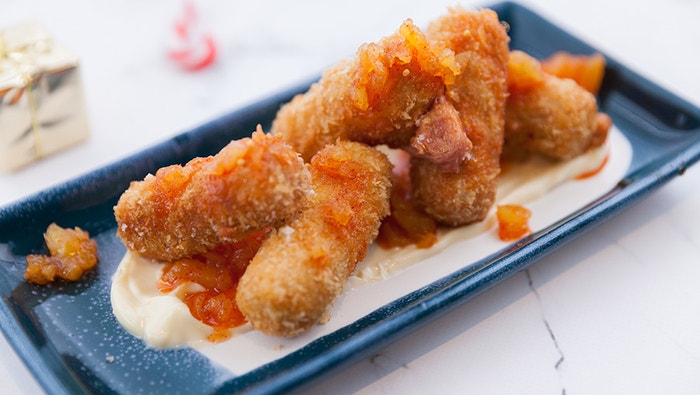 Steps
Nage
Start the nage from cold start in a pot adding all the ingredients and the ham hock and allow to simmer on low heat for 3 hours or until the meat is completely falling off the bone.
When cooked allow to cool in the liquid to avoid the ham hock loosing some of it's moisture
Shred the ham hock and put aside
For the béchamel
Start up by making a roux with the butter and the flour
Add on the warm milk and cook whisking continually to avoid the béchamel to catch
Add on the rest of the ingredients but the cheese ( add it when the béchamel will be cold)
Put aside to cool down.
Smoked kewpie method
In a deep gastro tray put some kewpie mayo in a container (heatproof) with a piece of smoking wood (ironbark) and put a lid on allowing to smoke for 5 minutes
Mix taste and repeat the smoking process if necessary to intensify the taste.
Pineapple chutney
Split open the vanilla pod and put the seeds in a saucepan
Dice the pineapple and add to the saucepan with the rest of the ingredients cook in low heat for 1 hour or until cooked down.
Croquette method
Mix well the béchamel, the grated cheese and the shredded ham hock and put in a pipping bag (the mix need to be cold before to be pipped)
Pipe into a cylinder, wrap in cling film and allow to freeze
Cut into 5cm batons and pane a l'anglaise (flour, egg wash, Japanese bread crumb)
Gently place into a pot of hot canola oil at 180C and deep fry until golden brown and cooked
Remove from the oil and season immediately
Serve with the smoked Kewpie mayo and pineapple chutney