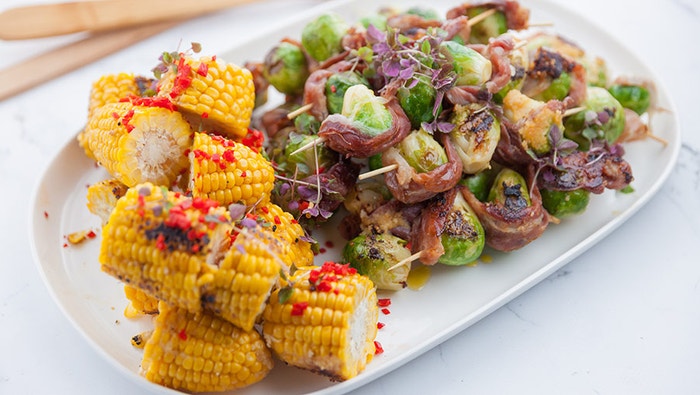 Steps
Place the Brussels sprouts in a microwave safe bowl.
Add about 1 tbs water, cover with plastic wrap and microwave on high for 2 minutes or until they are bright green.
This makes the Brussels sprouts easier to thread onto skewers.
While you pre-cook your sprouts, make the almond miso butter.
Combine the vinegar and sugar in a small saucepan.
Cook over low heat for 2 minutes until the sugar has dissolved.
Set aside to cool. Process the almonds, butter and miso until a smooth paste forms.
Add the vinegar mixture and process until well combines.
Preheat a barbecue grill or chargrill pan on medium-high.
Thread the Brussels sprouts onto four soaked wooden or metal skewers, weaving the prosciutto between them as you go.
Place the skewers on a tray and drizzle with oil.
Cook for 1-2 minutes on each side until tender and slightly charred.
Serve the Brussels sprout skewers with the almond miso butter.
For the corn, microwave the corn (with husks) for 1 minute.
Remove, slice off the tip and the corn will slip out.
Chargrill the corn over medium high heat until blistered and tender.
Serve with almond miso butter and topped with micro coriander and chopped fresh chilli.