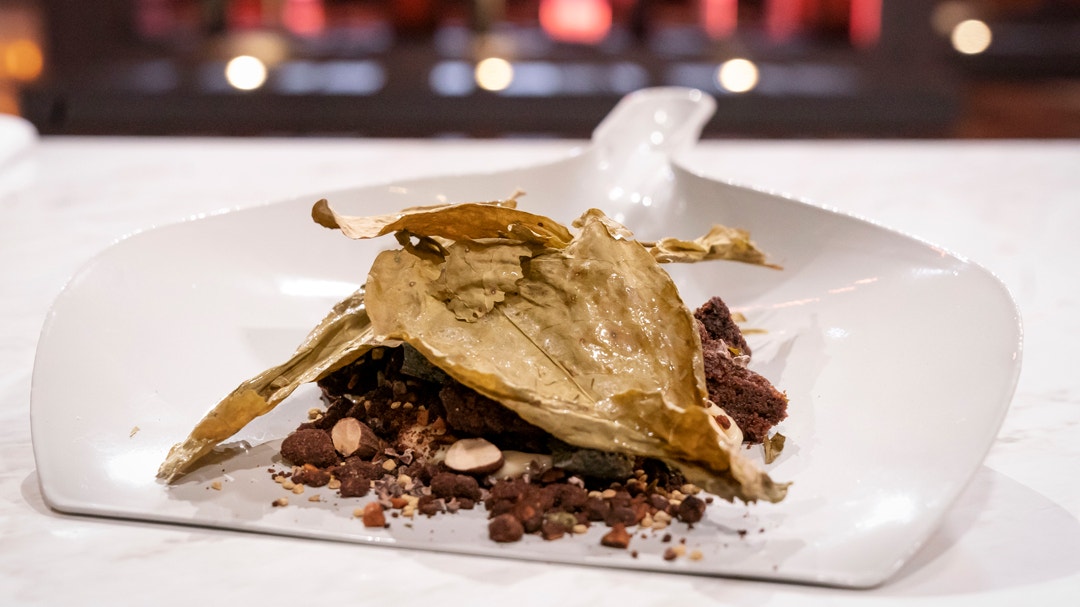 Steps
Preheat oven 1 to 170°C fan forced.
Preheat oven 2 to 120°C.
Prechill ice cream machine.
Preheat dehydrator 70°C.
Sorrel Leaves
For the Sorrel Leaves, wash and dry sorrel leaves. Spray leaves with canola oil ensuring an even coverage of spray.
Place leaves on dehydrator trays then transfer to dehydrator at 70°C for approximately 2 – 3 hours or until leaves are dry.
Meanwhile, combine sugar and water in a saucepan and place over medium heat until sugar is dissolved.
Brush the dried leaves with the sugar syrup then return to the dehydrator until required.
Charcoal Honeycomb
For the Charcoal Honeycomb, combine sugar, glucose and honey in a large saucepan. Place over high heat and cook until 160°C.
Remove from the heat and whisk through bicarb soda and charcoal powder.
Pour into a lined baking tray, set aside on the bench and allow to cool.
Sorrel Sorbet
For the Sorrel Sorbet, place water in a saucepan, place over medium high heat and bring to 40°C. Add sugar, dextrose, maltodextrin and stabiliser. Stir to combine then bring the mixture to 65°C.
Transfer to a bowl placed over a bowl of ice and stir occasionally until the mixture is cold.
Once cold, add the sorrel juice and stir to combine.
Transfer to an ice-cream machine and churn according to manufacturer instructions.
Chocolate Soil
For the Chocolate Soil, combine all ingredients in the bowl of a stand mixer fitted with the paddle attachment and mix to a crumble.
Spread evenly on a lined baking tray and bake at 170°C for approximately 20 minutes.
Honey Crème Patissiere
For the Honey Crème Patissiere, place gelatine in a small bowl and cover with cold water. Set aside for approximately 5 minutes until pliable. Once pliable, drain the gelatine and squeeze out excess water. Set aside until required.
Combine 500g of milk and vanilla paste in a saucepan and gently warm over medium heat.
Meanwhile, whisk together the remaining milk with the egg yolks, sugar, cornflour and custard powder in a bowl.
Whilst whisking, gradually add the warmed milk into the egg mixture then return the combined mixture back into the saucepan and cook over medium heat until thickened.
Add butter and softened gelatine, stirring until the gelatine is melted and the mixture is combined.
Transfer to a bowl, cover with clingfilm and place in the fridge to cool completely.
Once cool, transfer to a food processor and blend to loosen the mixture. Transfer to a bowl and fold through the whipped cream and honey. Place in the fridge until required.
Flourless Chocolate Cake
For the Flourless Chocolate Cake, combine dark chocolate, sugar (A), butter and water in a bowl and stir over a saucepan of simmering water until the chocolate is melted.
In a bowl whisk the eggs and sugar (B) until pale and fluffy.
Fold the melted chocolate mixture into the egg mixture then transfer into a lined 20cm x 20cm x 5cm cake tin.
Place inside a baking tray that is larger than the cake tin and pour boiling water, filling halfway up the side of the cake tin. Bake at 120°C for 1 hour and 40 minutes.
Once cooked, remove the cake tin from the water bath and set aside on the bench to cool.
To Assemble
To Assemble, place 2 heaped tablespoons of honey crème patissiere in the centre of a serving plate.
Add small pieces of broken up flourless chocolate cake over the crème patissiere.
Cover the cake with approximately 2 tablespoons of chocolate soil.
Sprinkle 1 tablespoon of chopped smoked almonds and a pinch of bee pollen over the top of the chocolate soil.
Crumble 2 tablespoons of charcoal honeycomb on top.
Spoon a quenelle of sorrel sorbet and place on top of the honeycomb.
Cover the dessert with dried sorrel leaves.