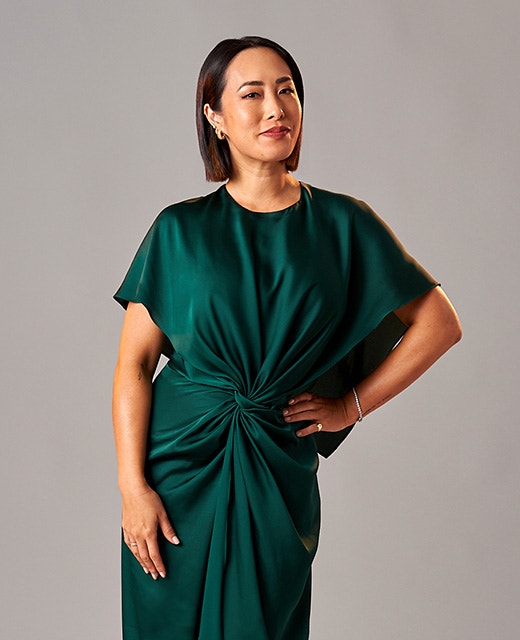 Melissa Leong
Melissa Leong has a motto: she'll eat anything once. It's this unbridled love of food and excitement to embrace the unknown that has seen Melissa cement her place in Aussies' living rooms – and hearts – over the years.
An accomplished food and travel writer, radio broadcaster, television presenter, MC and cookbook editor, Melissa is a first-generation Singaporean Australian with a resume that reads like a food lover's bucket list. If it has anything to do with the culinary industry, chances are that Melissa Leong has written or broadcast about it, collaborated with, or has them on speed dial.
Her career has spanned the worlds of advertising, food media consulting, PR, journalism and cookbook publishing, and she has worked with the industry's biggest names including Marco Pierre White, Adriano Zumbo, Colin Fassnidge and Dan Hong. From travelling solo to far flung places in the world, to living on an abattoir in rural Tasmania just to better understand the challenges facing primary food industry on granular level, Melissa has forged a life centred around connecting with relating to others.
It is her commitment to learning about what connects us as humans that has served her well in her roles as restaurant critic for Delicious and columnist for Stellar and Escape magazines.
Beginning her career in television with Netflix's The Chefs' Line in 2016, Melissa went on to be a judge on MasterChef Australia in 2020, where she celebrated the stories of others through the great equaliser of all people: food.
In 2022, Melissa expanded her CV yet again to include children's author, when she penned her debut solo book: A Taste Adventure.
This year, Melissa evolves her relationship with the MasterChef Australia family, announcing she will cojudge the new sweet spin-off, Dessert Masters, alongside pastry wunderkind Amaury Guichon.
An articulate, motivated mentor with extensive culinary credentials to match, Melissa has an insatiable appetite for new experiences, fantastic food, and a life well lived.