It was a huge week for the couples of Week 1, as we saw their lives totally transform thanks to the expert help of designers Jane Thomson and Tim Leveson.
After watching the couples make big and bold design decisions, we have gathered all of our favourite trends that spiced up these brand new homes:
Shades Of Green
The biggest and most popular trend of Week 1 was undoubtedly the colour green. The designers and the couples used this calm colour across all of the walls, bed sheets, couches and ceilings to really bring the outdoors in.
Tip: If you use lots of green in your home, add a touch of soft pink cushions or throws to complement the colour.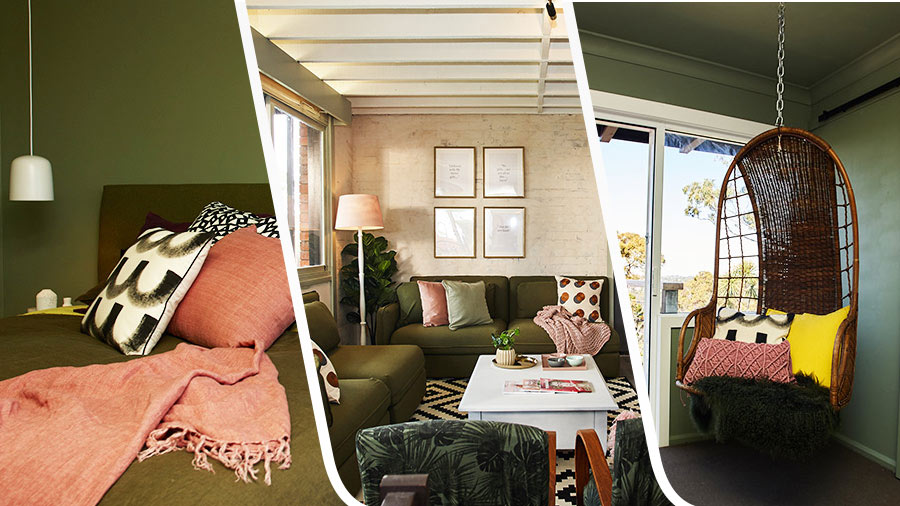 Touch Of Black
To modernise these old, '70s brick homes, the designers and the teams introduced a touch of matte black across the rooms. The dark shade added a hint of luxury to every space and allowed the other colours in the room to pop!
Where to find: You can find the matte black Vivid Twin Shower Set from Phoenix Tapware, and the Ziami pendant light from Beacon Lighting.


Palm Leaf Print
Another trend we adored in these newly renovated homes, was this cute and summery palm leaf print. This palm leaf print is a great way to complement any indoor plants or outdoor greenery, and is a simple way to make your home feel like a retreat!
Where to find: The Pink Tropics Wallpaper can be found at Luxe Walls, and the armchair fabric can be found at Bev's Remnant House.