When motorbike enthusiast Mark Hawwa returned from an overseas trip in search of a custom style he had seen abroad, little did he know this moment would be the catalyst for changing the lives of men in the motorcycle community. Both in Australia and around the world.
Mark is the founder of charity The Distinguished Gentleman's Ride which he started from his living room in 2012. The ride, which sees men dress dapper and sit astride their classic and vintage styled motorcycles each year to raise funds and awareness for men's health, has exploded since the first ride eight years ago.
Starting out with 2,500 participants, this number has grown to 125,000 riders globally and to date, DGR has raised an incredible USD $25 million to support initiatives such as cancer research and suicide prevention.
I spoke to Mark about how DGR started, the issues impacting the motorcycle community and how he's making a difference in not only tackling them but saving men's lives in the process.
Tell me what inspired you to start The Distinguished Gentleman's Ride.
"I had just come back from a trip to Japan and fell in love with their mix of classic and custom motorcycling scene. When I got back to Australia, I was determined to get a bike that could bring that style here but none of my mates rode that kind of bike, so I started the Sydney Cafe Racers.
"As the custom style caught on, I started seeing people from around the world get into the group and we connected over a joint love of custom motorcycles. Then the idea for DGR hit in our Perth group page, when I saw a poster of Mad Men's Don Draper sitting on a classic Matchless motorcycle in his beautifully tailored suit on the page and thought it was a really interesting way to show a motorcyclist.
"At the time in Australia, we had a lot of issues with public perception of 'bikies', so it motivated me to spread the word throughout these groups and get everyone riding on the same day on their classic and vintage styled bikes to dress dapper and ride together to break down that negative stereotype. That was 3,000 riders in 64 cities, and now we're connecting 116,000 riders in 678 cities, so quite a lot has changed!"
Once you had the idea, what were the next steps you took to bring DGR to life?
"After seeing how popular the first year was, a friend of mine suggested we consider how we can make this a for-purpose event to help raise awareness for cancer research. That friend worked in the prostate cancer research field and explained that men aren't getting tested for a fear of the testing methods.
"I looked into it and what I saw was that prostate cancer was the leading cause of cancerous deaths in men but there was pretty much no awareness of it and with early detection being a literal life-saver for men with prostate cancer, we decided that we'd use this event to educate men on how to get tested.
"At the time, there was a significant misconception around how the testing for prostate cancer was, with most men thinking it was still a finger up the backside. With this as our new goal, we partnered up with the Prostate Cancer Foundation of Australia and started fundraising.
"As the event grew, we started partnering with prostate cancer foundations around the world so we could keep the funds raised in relevant countries and provide tax-deductible receipting. It was a tough job. Now, since 2016, we've partnered up with Movember because they're the biggest multi-national charity who are raising awareness for men's health on a global scale."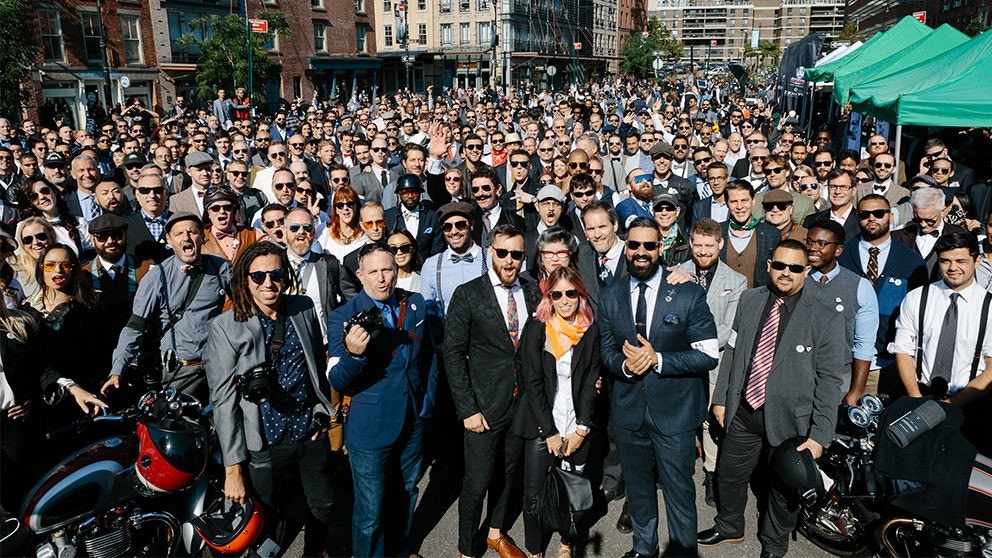 A ride in New York. Image: Ethan Covey
What made you realise that men's causes such prostate cancer research and male suicide prevention were issues that needed to be tackled in the motorcycle community?
"It probably wasn't until we started doing it that we realised this was a particular problem area for motorcyclists. With suicide being the highest killer for young males and prostate cancer the highest cancer found in adult men, it was inevitable that these things would also impact the motorcycling community.
"Most male riders are 'blokes' who might not talk about their situations. Once we got them talking, we realised that so many of these guys were either directly impacted by this or knew someone who was. We began to see that, like most men, these were the guys who needed the help but nobody knew.
"These conversations along with the loss of one our ride hosts in the US took us from just focusing on prostate cancer research to getting these guys talking about mental health.
"These are two really significant issues with such an important message to share within our community and we needed to make sure that message would reach our riders in a positive way which is why our partnership with Movember is so important. Their focus is getting in touch with guys who might never think about needing help by normalising conversation around mental health in an environment they're comfortable in.
"It's a weird feeling when you're walking around thousands of beautiful bikes at a DGR event and you hear two blokes talking about their feelings instead of the machines. That's when you know you're getting somewhere."
How does DGR help to support the specific issues such as social isolation and poor mental health that these men face?
"We do this through creating communities and connect men who might not have strong social connections. We know that men feel a greater sense of connectedness when they're forming positive relationships. Men experiencing mental health challenges typically don't ride to talk, they ride to escape from their problems and situations that might display vulnerability.
"What we have just launched with Movember is The Distinguished Gentleman's Ride Social Connections Challenge. Here, we're looking to develop initiatives that they want to ride toward. We want to improve the social connection between motorcyclists because we know, in general, people who are satisfied with their relationships and social connections are more likely to experience good mental health and wellbeing.
"We know that the cultivation of healthy close relationships can increase individual resilience and act as a protective factor against suicide and that friends and family can be a significant source of social, emotional and financial support and can buffer against the impact of external stressors."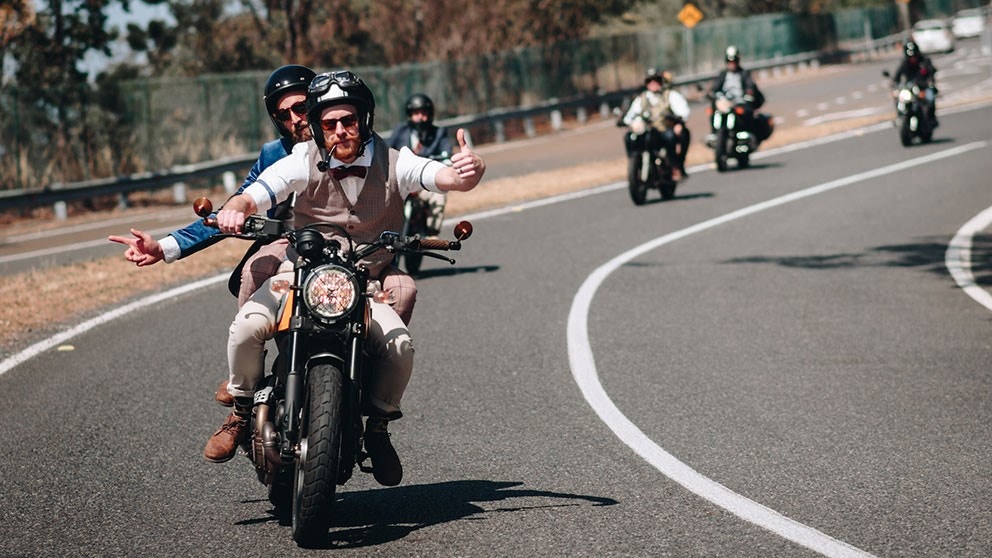 Riders participating in Brisbane. Image: Austin Hulme Photography
Tell me a little more about the newly launched Ride Social Connections Challenge. How does it work?
"The DGR Social Connections Challenge came about with us knowing how dedicated our community was in fundraising and in changing the way men communicate, so we thought it was finally time to help bring specific programs targeted at all riders to make a difference to them directly.
"This program isn't just for people in DGR but for every single male motorcyclist. We've never done anything like this before and Movember was really excited to build out a program that helps us better connect with riders as a part of their 'going to where men are' approach to mental health. It really is a world-first, and we're honoured to be able to bring this to the global riding community.
"The Challenge will be carried out in two key phases at this stage. A maximum of 10 pilot project grants valued at up to AUD $75,000 will be awarded internationally in phase one. Phase two will see the implementation of pilot project plans over a 12-month period.
"If the name is any indicator to you, we're looking for ideas that help connect riders socially, outside of the DGR community. This is a really wide-net to men in motorcycling, so it should be something that connects all men and especially, those guys that may be a little harder to reach when it comes to connecting.
"With the focus on connections, we are also looking at programs that strength peer-to-peer support, and can allow us to provide positive role models and mentors to all riders and improve everyone's knowledge about mental health and suicide prevention."
Why is it important to 'go to where men are' when it comes to supporting this unique community?
"The way a message is communicated is so important, particularly when you're talking about men in motorcycling. Being able to get in front of them and convey a message that they feel comfortable listening to is instrumental in having them apply it. You can't force them to sit and listen so a seminar or lecture. They just don't connect with that.
"Instead DGR and Movember create these communities where the topic of mental health is always present. So while you will get together over a joint love of motorcycling, when you ask someone who might be feeling anxious or depressed, when you ask 'how are you?' they feel comfortable with giving you more than just a 'yeah, good' in response.
"What we're able to do with these guys is not only offer them an understanding of how to identify when they or a mate may not be doing so well, they also know how to have those conversations. This is why DGR is so important for women and all genders as well. Yes, we're targeting men's health cause areas but we are all instrumental in identifying and communicating with guys.
"We have found a huge number of men are listening positively and responding to their own understanding of their mental health as well as helping the fellow males in their lives do the same. This is why we're now funding over one million dollars to pilot unique programs for men in motorcycling to connect with their local communities about mental health."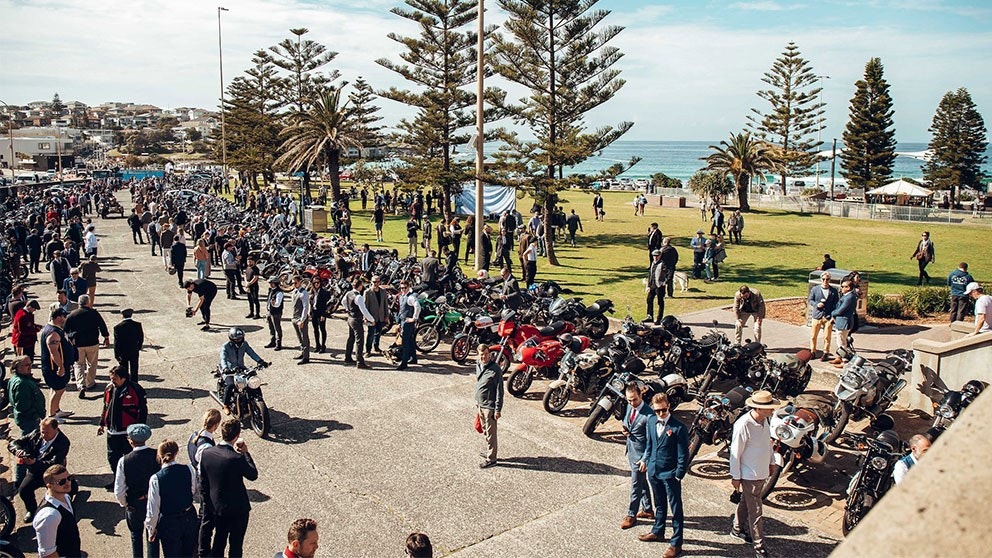 Sydney riders in full force. Image: My Media Sydney
Walk me through what happens when you participate in a ride.
"Well eight weeks until DGR day, we launch registrations and fundraising on our website and riders will have engaged in a huge number of prize challenges where we give away some pretty amazing prizes during the fundraising period. During that time, they would have been sent the ride information for their ride. We only provide start locations and details to registered riders.
"Then on the day, riders get to the start location where there is generally food, coffee, music and all sorts of great vibes where they're able to get off their bikes and connect with their fellow riders in the city. Many take the opportunity to gawk at some pretty impressive machines and others have a chat with people they know or meet new mates.
"We provide a safety briefing given by the hosts to make sure we're all staying true to the cause by respecting the roads and pedestrians. After about an hour or so of that, you'll hear the thunderous roar of all these immaculate bikes starting up and we hit the road and take a short ride through the heart of the city to raise awareness for our cause.
"We strategically place volunteers along the route to help keep people on the right path. These fantastic folks also engage with members of the public, letting them know why the street is filled with dapper men and women, smiling and waving. It's a pretty awesome sight.
"Once the ride is done, riders are invited to whatever post-event the host decides to run. For Sydney this year, we pretty much filled the entire Entertainment Quarter with beautiful bikes and dapper riders and enjoy the afternoon with lunch, sharing stories and talking to some pretty inspiring people about why they ride."
There's no doubt being the founder of DGR would be deeply rewarding. What is one of the most touching experiences you've had during a ride?
"It's a great feeling. Every year we get hundreds of messages about how we've changed people's lives. Some from the networking and friendship aspect and others from men getting checked for prostate cancer and surviving because of the event motivating them to get checked early.
"It's a difficult question because on one hand we are also dealing with friends who have taken their own life and on the other we are saving lives. It's a never-ending roller coaster of emotions but deep down, I know the world is a better place for having an event like this and that makes the team and I proud.
"Every life saved that gets attributed to us is an incredible feeling. It's our drive year on year. For me, finishing the ride at the back of the pack and seeing all the dapper men and women in front of me is where I feel most proud and to a degree most exhausted, as it's a lot of work making DGR happen.
"I have had men tell me of how DGR has saved their lives, I've had women tell me how DGR has saved their dads. We have experienced deaths of our riders through suicide and prostate cancer, the two things we constantly fight for. We have experienced riders finding love and marriages at our event.
"It's pretty surreal how an idea to ride bikes in suits changed the world for so many, including myself. I've had men cry on my shoulder thanking me in person, I've had the children of survivors calls me to thank me for keeping their dad around. It's all emotionally tough especially as I'm one of those guys that feels pain for others but it's all deeply rewarding."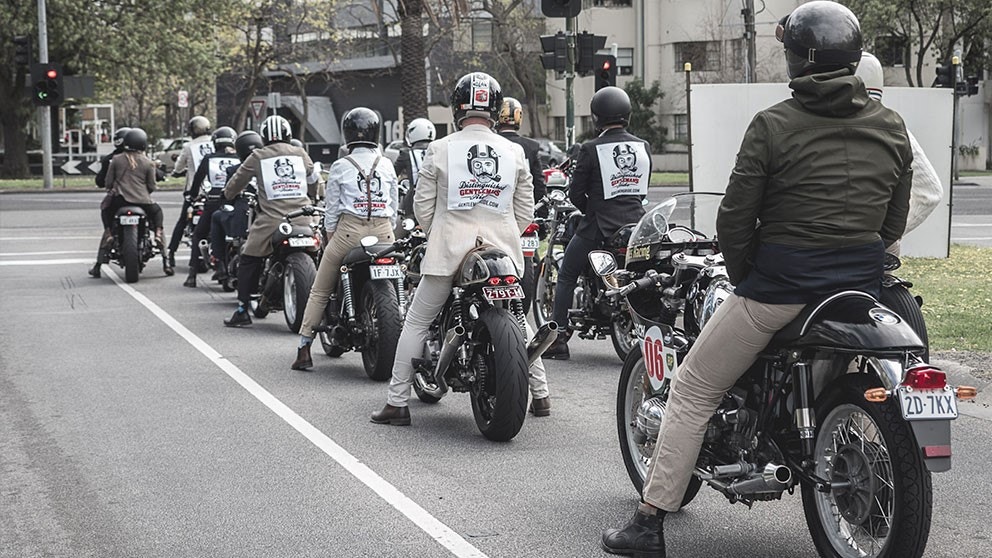 Melbourne riders. Image: Robin Riddell
What can people do to get involved with DGR?
"If you want to help us continue to connect men who need it most, you can donate at www.gentlemansride.com or email us from the website to get involved in your local event.
"It takes thousands of volunteers from all around the world to make it happen, riders and non-riders a like. Alternatively, if you ride a classic and vintage style bike and want to find a local event near you, go to our website to find out more."
Dell and 10 play are bringing you inspiring stories of Change Makers at work across Australia, celebrating the people who are doing the little things to make a big impact. Because we know that every little thing is everything.