When Corey started volunteering with AIME in 2018, it confirmed two things: his infectious love for science and his motivation to inspire other Indigenous children to become fellow Deadly Scientists.
Corey Tutt is the proud Kamilaroi man and passionate scientist who started DeadlyScience – an initiative that provides science resources to remote schools across Australia and encourages Indigenous students to get passionate about all things science.
The initiative has gained incredible momentum and by 2020, Corey has raised more than $100,000 in funding. These funds have enabled Corey to source and send more than 11,000 books, 480 telescopes and 80 foldscopes to almost one hundred schools across Australia.
I spoke to Corey about how DeadlyScience started, how he's making a difference for Indigenous students in rural areas and what this Young Australian of the Year has got planned next.
Hi Corey, first of all, can you share with us when and how your passion for science began?
"My passion for science started when I was a kid. We moved around a lot as a family we never really got to settle anywhere. The one constant for me was all the animals I would see, mainly reptiles. Trying to work out how they worked and the best way to find them was a form of science in itself."
Evidently your enthusiasm for science has led you to many great achievements in your life, namely the DeadlyScience initiative you started in 2018. Can you tell us more about the initiative and how it came to life?
"I started volunteering with AIME in 2018, yarning with kids in Redfern and Waterloo I was really taken aback by how much they loved science, they reminded me of myself as a teenager. The program ended and I tried to keep up the talks which had then became really popular. Eventually I decided I needed to do more and open the door for younger kids in the community. I rang up remote schools and started yarning with them and discovered to my horror how under resourced they were. The focus was mostly on art and sport for Aboriginal and Torres Strait Islander kids and nothing else; the kids weren't seeing that they could do science. I wanted to change this."
It's amazing to learn that by early 2020 you had raised more than $100,000 in funding which enabled you to source and send more than 11,000 books, 480 telescopes and 80 foldscopes to almost one hundred schools across Australia. Can you walk us through how you were able to successfully raise such a large dollar amount?
"Originally, I was stubborn and I didn't want to appear like I was doing this for profit or to raise my profile, I just want kids in everywhere to do well and have the opportunities they deserve to have. After working a second job and paying for the first few thousand books, my partner and friends got wind of what I was doing and told me to start a social media page with a GoFundMe link because the bills were stacking up and there simply wasn't enough hours in the day to be this DeadlyScience guy as well as a partner and a friend whilst working two jobs. My friends, family and then the public really got behind it and that's how DeadlyScience became what it is. All funds have gone back into these Deadly Scientists and I'm proud every day."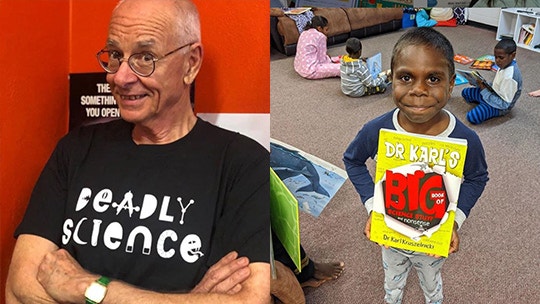 Your work with DeadlyScience also involves regular Skype catch-ups with students from the schools you've supported. What do you usually cover in these video catch ups, and what are you hoping to achieve with this ongoing contact and support?
"We cover whatever questions the kids have, there is nothing off limits. Kids are the best scientists and we're there to listen and answer. We often talk about animals, or we let the students pick the topic. We had kids from a Purnululu school in the Kimberley choose frogs and toads because they wanted to learn about the cane toad coming into the community so they could deal with them. It's about allowing these kids to see what they can be, and see science in a way that is accessible to them."
Can you describe the very first moment that you realised you were making a real impact with DeadlyScience?
"One of the teachers from the first schools I worked with rang me in tears, she was just so happy someone had cared enough to send resources to the school. Another time I had a call once from an elder who said "What you have given these kids is the freedom of Science". The videos and feedback from all the students also make me proud."
What advice do you have for other people wanting to get involved in supporting Indigenous students in rural schools around Australia?
"Listen, find out what communities need, be respectful and work out how you can help. Volunteering with organisations like Red Dust is a great way to get involved. Remember we don't have all the answers but together we get closer."
You've also been named the 2020 NSW Young Australian of the Year. Congratulations, can you tell us what this title means to you?
"For me this is a responsibility to show all the DeadlyScience students that anything is possible, all you need is to try your best."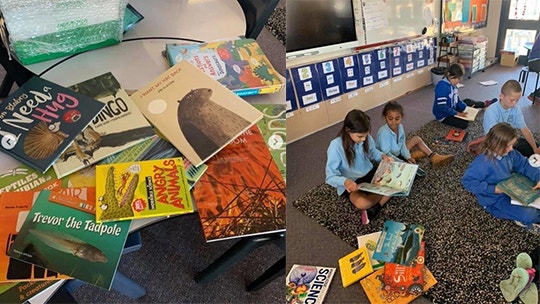 Amongst all this, you're also a Research Assistant at the University of Sydney's Matilda Centre. Can you share with us what you're currently working on?
"Currently I don't do DeadlyScience full time which is extremely challenging and rewarding at the same time. Every day I finish work with nothing left in the tank. My role at the Matilda Centre is researching crystal methamphetamine and its effects on Aboriginal communities, then taking the facts and turning them into evidence-based resources for the community."
Corey, you've achieved so much already - support from Aussie household names like Doctor Karl and Rove McManus, you've been named the 2020 NSW Young Australian of the Year, as well as the 2019 CSIRO STEM Champion. What has been the highlight of your career to date?
"I think many kids have been saved because of DeadlyScience and the effort to show they're worth it. My greatest achievement is being able to show the general public who may hold misconceptions or racist views that Aboriginal and Torres Strait Islander people love learning; we are the First Scientists of this country."
With such great success and continually reaching new heights, one can't help but wonder, what does Corey Tutt have planned next?
"We need your help to keep going. I would love to hire some of the community members who help with DeadlyScience and really make an impact. Post COVID I want to head out to the communities and be a sponge to take in everything. I want to see kids from the community doing well and becoming Deadly Scientists or doing whatever their passion is."
You can donate to DeadlyScience to help provide educational supplies to Indigenous students in remote and rural areas at https://deadlyscience.icu/product-category/donations/.
Dell and 10 play are bringing you inspiring stories of Change Makers at work across Australia, celebrating the people who are doing the little things to make a big impact. Because we know that every little thing is everything.