When Pete's teaching hours were reduced during the coronavirus lockdown period, he and Jackie Scott, a fellow Technology teacher at Surf Coast Secondary College, saw an opportunity to give back to the community.
Pete and Jackie started the 'Cooking for COVID' program during the coronavirus lockdown period. The initiative sees students and staff working together with the Salvation Army to cook and donate meals to those in need.
The program as gained significant momentum over the past few weeks, with the team cooking over 2,500 meals to donate to people in the local community.
I spoke to Pete about how the initiative started, how the coronavirus pandemic has impacted his local community and how he's making a difference by giving back and setting an example for other schools across the country.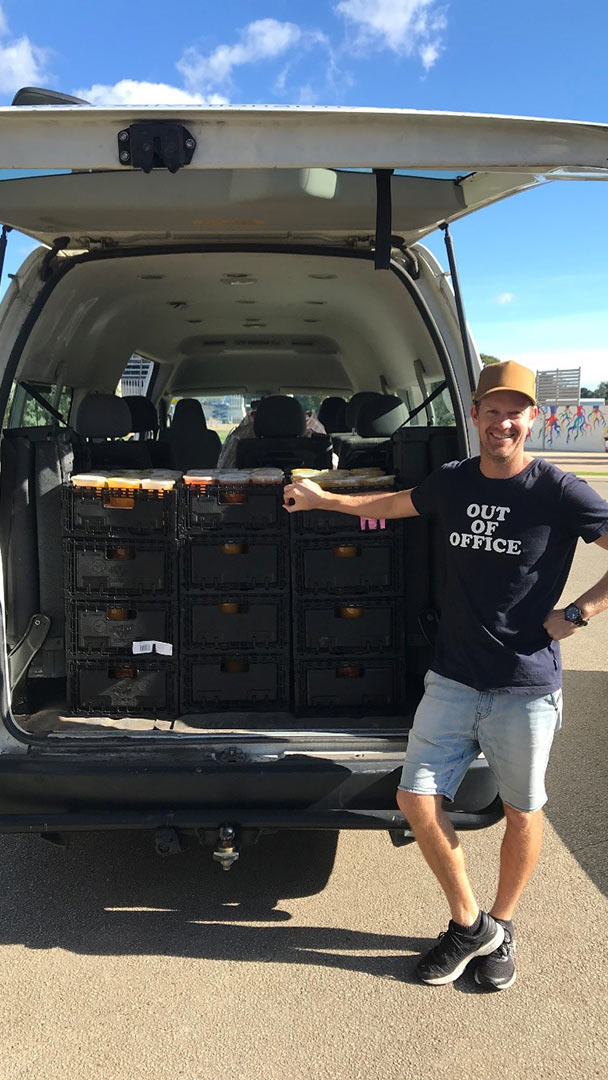 Hi Pete, first of all, can you tell me how this idea came about?
"During the lockdown period, myself and other Technology teachers were under-allotted with our teaching load. Our College Principal, Erin Wright got in contact with Jacqui and myself and asked us if there was something we could do to help the school community during the teaching lockdown."
"Jacqui and I came up with the idea of creating a soup kitchen. We got in contact with James Ashley, our school chaplain, who also works with the Salvation Army. He mentioned the Salvation Army were in need of more food, as their supply wasn't keeping up with the demand. Jacqui and I rang a local fruit and veg store, Peachs Torquay and the local supermarkets, Woolworths and Coles. They were all on board and five days later we were ready to start creating these much-needed meals."
"There was only one thing we were struggling with - we didn't have any containers, or money to purchase them. So, I asked the staff at Surf Coast Secondary College if they could all chuck in five dollars each so we could purchase the 600 containers needed, as that was our original goal. Our staff were so generous that the donations came in fast... starting with $20, then $50, and so on. In total, the staff from our college out of their own pocket donated $1,025."
"At the supermarkets and the school admin we also made drop off locations for non-perishable donations where the wider community could make donations. We then forwarded those goods onto families of the college in need and the Salvation Army to distribute."
It's one thing to brainstorm ideas, and another to see the ideas actually come to life. You've managed to send out 2,500 meals in seven weeks. Can you walk us through the process of how this actually works, end to end?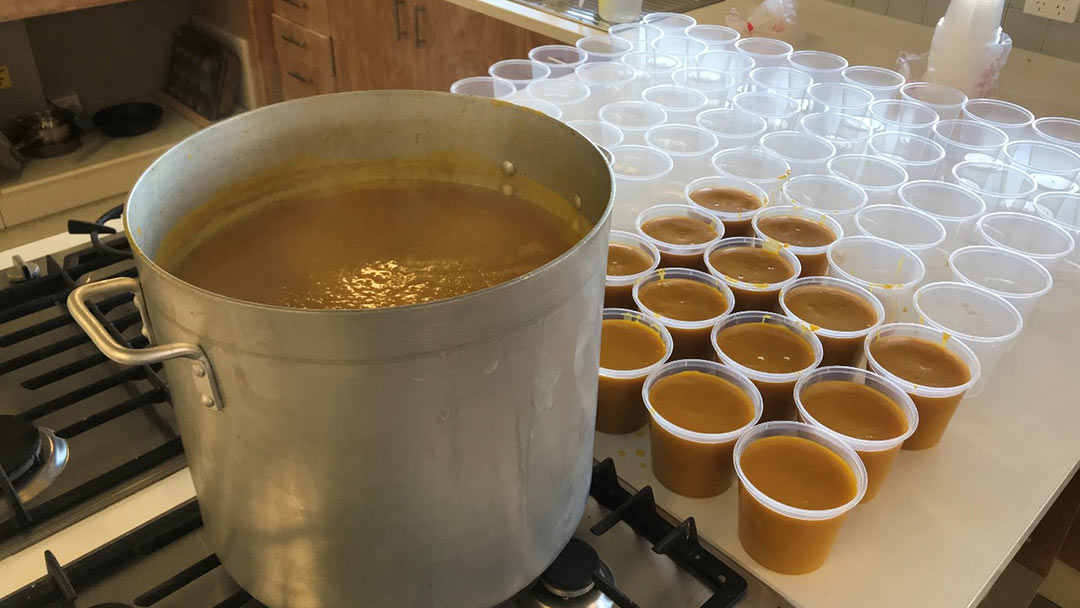 "On Thursdays, Jacqui and myself would go to Peachs and Woolworths and collect all the donated fresh produce. At the same time, we would collect all the non-perishable items that the community had donated."
"On Friday we would go into the school kitchen to prepare the meals. We had it all set up with one of our food technology teachers and our kitchen hand in one kitchen cooking the soup, and in the other kitchen we would have one person per workstation helping with the preparation of the vegetables. We had a mixture of different helpers including student teams such as VCAL, Hands on Learning and school leaders, as well as a parent helper and Surf Coast Secondary College staff, all volunteering their time."
"The soup was portioned into individual serves of 700ml in the café area, then we then loaded the soups into the Salvation Army van and sent them off with our school chaplain to the Salvation Army food depot."
"At the same time we package up some of the donated non-perishable items and send them with our wellbeing team to some families in need and the rest to the Salvation Army."
It's amazing to see a one-high-school-town like Torquay was able to secure a partnership with the Salvos on the back of the success of this initiative. Does Surf Coast Secondary College regularly develop initiatives to give back to the community?
"Working at Surf Coast Secondary College is really like being a teacher for the Surf Coast Shire's community. The amount of community involvement is overwhelming. The relationship with the Salvation Army has been a strong one and has been since the schools opening and we have only built on that with 'Cooking for COVID' program. We have had such a great response from everyone but especially from our local grocer Peachs, Woolworths and Coles along with the wider Torquay community. Everyone has been so generous with donations of produce, non-perishable items, time and money donations."
You've seen that despite people collectively bearing the brunt of significantly reduced income due to COVID, there's an element of embarrassment when it comes to asking for or receiving help. Can you tell us more about your experience with this?
"I think that during this pandemic, we have seen that anyone can be affected. The students and staff who assisted in this program really understood that they were helping people within our community, including people that may have not ever reached out for assistance before. The initiative was a great way of demonstrating to our students that life has its ups and downs, and we need to be looking out for each other in any way that we can.
"We were not directly involved in handing out the meals to the wider community however our Wellbeing team have helped deliver packages of soup and food to some of the families of our school that they knew needed the help."
Do you think by having the school kids and staff involved in this initiative, you could be helping remove the stigma from families in the community asking for or receiving help?
"By having a whole school initiative it really demonstrates a great message to our students and the local community that we are stronger if we all chip in and help each other out during difficult times. It is mentioned nearly every week, that people volunteering go home with a sense of achievement knowing they have done something positive for the world at the same time."
With having so many from the school involved to run this initiative, it must bring everyone a lot closer together. What other, wider positive effects have you seen amongst the school kids, thanks to this initiative?
"The whole project started so quickly and got bigger and bigger really quickly with everyone asking to help out, donate and chip in where possible. Students have been following up and emailing Jacqui and I asking when they can have another opportunity to come in and volunteer again. We're hoping
that students will use this motivation to continue the initiative and be active members of our community in new ways as well."
What would you say other schools and communities can learn from Surf Coast Secondary College?
"Jacqui and I have said all along that we feel we are not doing anything special by facilitating this program. We feel like we are just doing our bit in this time of need. That's the message I would leave for other schools and community organisations; if you think you can help, even if it is in the smallest way, every little bit will help and the community will be better for it."
"Schools also have great facilities to run initiatives like this one, so we would encourage them to think of authentic ways of delivering the curriculum where students can have opportunities to be leaders, problem solvers and active members of their communities."
It's truly heart-warming to see Surf Coast Secondary College giving so much back to the community. Can we expect to see any other initiatives from you in the near future?
"We try to get involved with the local community as much as possible and give back. We have had initiatives at Surf Coast Secondary College working with aged care homes, Men's and Women's sheds creating products and cooking for the Salvation Army's women's shelter. We have many other organisations that we interact with however, at the moment most of these initiatives are on hold with CVOD-19 restrictions. Hopefully we can get on top of the spread and these programs can come back."
How can other people get involved and do something similar in their own community?
"People can look at the world around them and look for opportunities just like us. There are plenty of great initiatives set up like ours in communities all over the place and people can offer to get involved. If you are part of a sports club or community organisation with an empty kitchen and have some man power, then the rest really isn't that difficult - most of the big supermarkets are always looking to help where they can."
"It's just looking at current day COVID-19 life with the attitude of 'glass-half-full' and being creative and willing to act to help where you can. It's not about going above and beyond but just chipping in where you can and doing your bit to help. If we all did that the world would be a much nicer place."
Dell and 10 play are bringing you inspiring stories of Change Makers at work across Australia, celebrating the people who are doing the little things to make a big impact. Because we know that every little thing is everything.