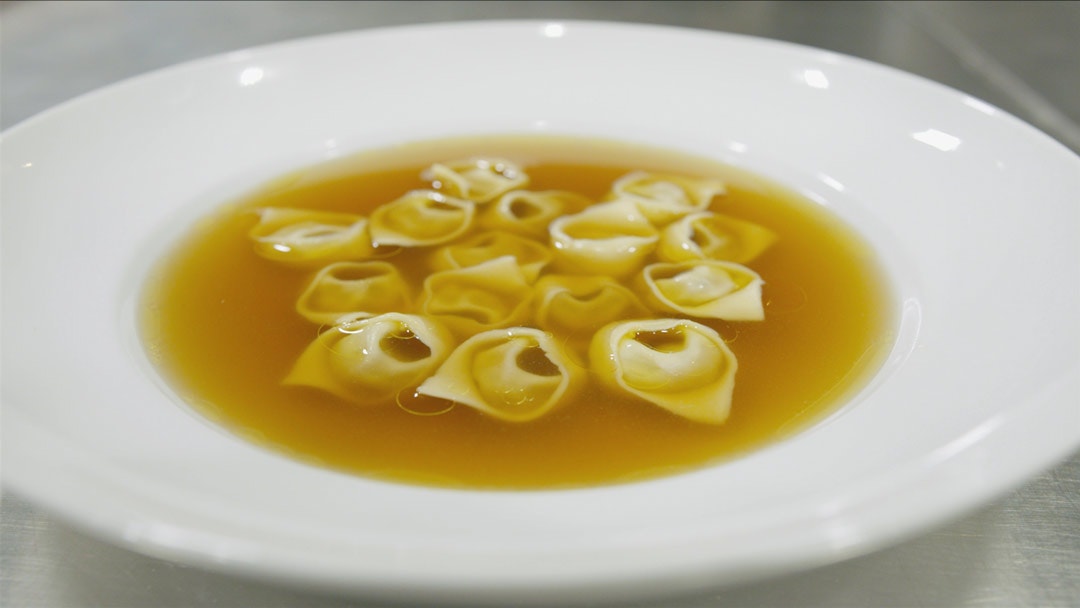 Steps
Preheat an oven to 140°C fan-forced.
For the Brodo, halve the shallots. Place a cast iron pan over high heat and cook shallots cut side down until blackened.
Meanwhile, in a pressure cooker, add 1.8L of chicken stock and bring to the boil on 'high saute' setting, lid off.
Add carrot, celery, bay leaves, peppercorns and reggiano rind to the boiling stock. Season with salt.
Heat a large frying pan over high heat. Add grapeseed oil and chicken necks to the hot frying pan and cook for 8 minutes, stirring to sear and caramelise evenly.
Use paper towel to absorb chicken fat from the pan of chicken necks.
Add remaining 200ml chicken stock into the pan of chicken necks to deglaze, scraping sediment from the bottom and bring to the boil.
Add blackened shallots and caramelised chicken necks to the pressure cooker, along with any stock from the pan.
For the Brodo Raft, in a medium bowl, combine julienne vegetables, mince and egg whites and mix thoroughly by hand.
Add Raft to the pressure cooker of Brodo and briefly whisk through. Place lid onto the pressure cooker and cook under high pressure, 'chicken/duck' setting for 30 minutes.
For the Chicken Fat, in a small saucepan over high heat, combine chicken skin, garlic, water and salt and bring to the boil to evaporate most of the water, stirring frequently to avoid catching.
Transfer saucepan to 140°C oven for 45 minutes, stirring halfway through.
For the Tortellini dough, place flour in a food processor. With the motor running, add eggs and pulse until the dough has a wet crumb consistency. Use a little water if needed.
Transfer dough to the bench and knead to bring together. Continue kneading for 2 minutes or until dough is smooth.
Wrap the dough tightly in plastic wrap and set aside at room temperature to rest.
For the Tortellini filling, place a medium frying pan over high heat.
Meanwhile, drizzle grapeseed oil over the beef rump and pork belly, season with salt and pepper and massage into the meat.
Add beef and pork to the hot frying pan and cook for 8-10 minutes, turning to sear all sides evenly. Transfer beef and pork to a small tray and set aside to cool a little.
Use the mincer attachment on a stand mixer to finely mince seared beef, seared pork and mortadella into a medium bowl. Pass the minced meat through the mincer a second time.
Add reggiano and nutmeg to the mince and mix to a smooth paste consistency. Season with salt and pepper. Set aside at room temperature.
To assemble Tortellini, portion the pasta dough into two even pieces. On a very lightly dusted wooden pasta board, use a rolling pin to roll each portion of dough to approximately 3mm thickness.
On the widest setting, pass the dough through the pasta roller attachment of a stand mixer. Fold the dough sheet in half then pass the dough through the roller to laminate. Repeat four times, this time folding the dough into thirds before passing through the roller. Very lightly dust the sheets with flour as needed.
Continue passing the laminated dough through the roller, working down through each setting to number 6, or until dough sheet is just less than 1mm thick.
Lift sheets of dough onto the lightly floured wooden board and cut to approximately 40cm lengths. One at a time, use a rolling pin to roll to approximately 14cm wide.
Use a cutting tool to cut dough sheet into 4.5cm wide squares.
Roll ½ teaspoon portions of the minced filling into balls and place one onto each pasta square. Use your finger to brush a small amount of water along two edges of each pasta square and fold in half diagonally to enclose filling, pressing to firmly seal and remove all air pockets. Shape the two corners of the longest edge around the floured handle of a thin pastry brush and press to seal together. Set the tortellini aside at room temperature.
Bring a large saucepan of salted water to the boil over high heat. Add tortellini to the boiling water and cook for 2 minutes or until al dente. Use a slotted spoon to lift tortellini from the water and place in a small bowl. Discard the water.
For the Chicken Fat, pass the rendered chicken fat through a small superbag into a measuring jug, discarding the solids. Transfer fat to a small serving bowl and set aside at room temperature.
For the Brodo, carefully release steam through the vent of the pressure cooker.
Pass brodo through a large superbag lined chinois into a measuring jug.
Season brodo with salt. Transfer brodo into a small serving jug and set aside at room temperature.
To serve, place 15 tortellini and 250ml of brodo into each serving bowl. Spoon a few drops of chicken fat over the brodo.