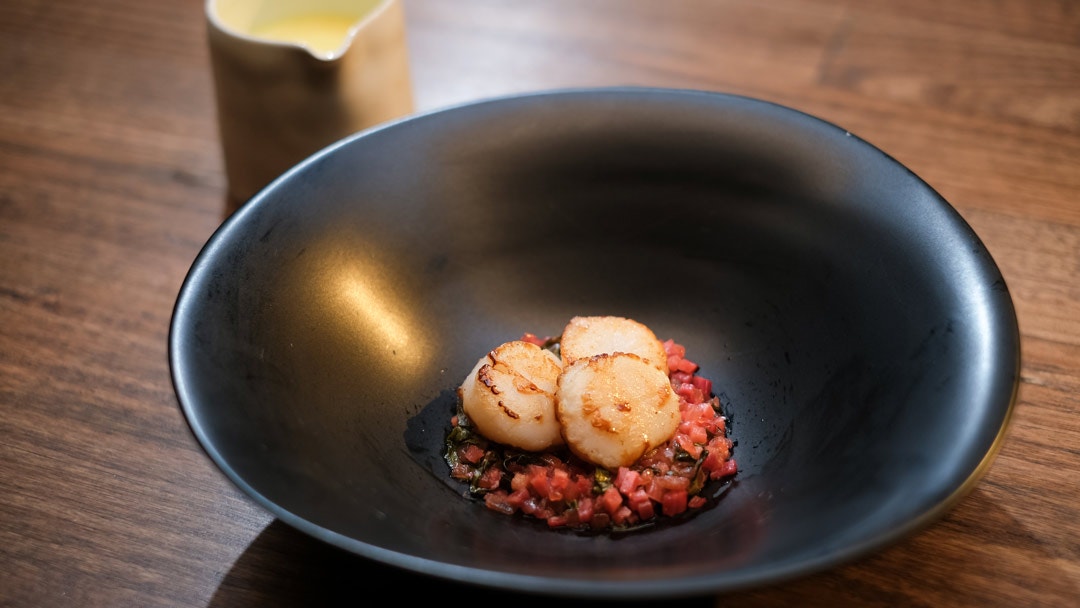 Steps
For the Champagne Velouté, place the milk, cream, thyme, sugar and saffron into a small saucepan and bring to the boil. Remove from the heat, cover and set aside for 20 minutes.
Meanwhile, place the Champagne into a small saucepan and simmer over low heat until reduced by half to 75ml. Remove from the heat. Pour the infused milk mixture through a fine sieve into the reduced champagne, return to a low heat and use a stick blender to process until combined. Season with salt to taste. Remove from the heat and set aside.
For the Beetroot Marmalade, place grapeseed oil into a frypan over low-medium heat. Add beetroot and shallot and cook over low heat until softened slightly, about 5 minutes. Add sugar and continue to cook until tender but with some bite remaining, a further 10 minutes. Add 1 tablespoon vinegar to deglaze the pan then add remaining vinegar and salt, to taste until a balance of sweet and sour is achieved.
Roll 2 medium beetroot leaves lengthways tightly. Cut into thin strips and stir through the marmalade until wilted. Remove from heat.
For the Pan Seared Scallops, place a medium frypan over medium high heat. Pat scallops dry and season well with salt and pepper. Add oil to the pan then add scallops. Cook for 30- 45 seconds until deep golden then turn the scallops and cook for 30 seconds until golden. Remove from the pan.
To serve, using a 7-8cm round cookie cutter as a mould, spoon Beetroot Marmalade onto each plate. Remove the mould. Top with scallops. Use a stick blender to emulsify the velouté then pour around the scallops and serve.