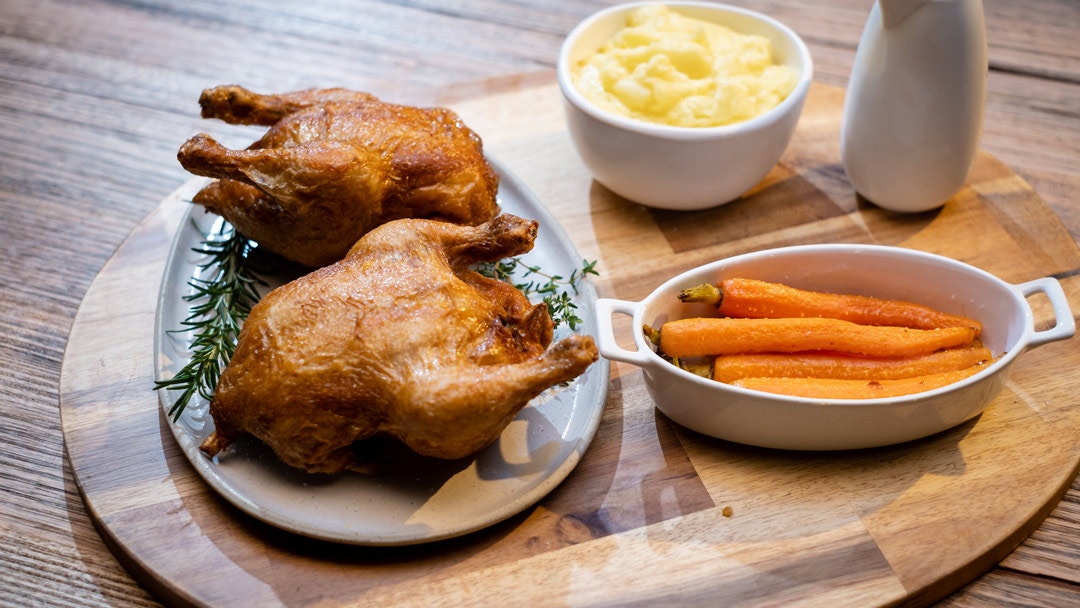 Steps
Preheat oven to 180C.
For the Spatchcock, place ingredients, except spatchcocks and oil, into a large saucepan and bring to the boil. Reduce heat to very low and allow stock to gently simmer. Add the spatchcocks, return to a gentle simmer and poach for 8 minutes. Remove from the heat and allow spatchcocks to rest in the stock for 20-30 minutes. Remove spatchcocks from the stock, drain well then wrap in a clean tea towel. Unwrap spatchcocks then place into the freezer for 15-20 minutes to allow skin to dry slightly. Transfer to the fridge until ready to cook. Reserve stock.
For the Jus, place oil, chicken necks and wings into a roasting tray and roast in the oven until deep golden and fat has rendered. Meanwhile, place oil and onion into a frypan and cook until golden. Add the rendered bones and stock and simmer until reduced. Remove from the heat and season with salt, to taste.
For the Roasted Pickled Carrots, place vinegar and sugar into a small saucepan and bring to a boil.
Pour over the carrots and set aside to pickle for 20 minutes. Drain well then transfer to a roasting dish. Add butter and herbs and roast in the oven until soft and golden, about 30 minutes. Remove from the oven and set aside, loosely covered to keep warm.
For the Paris Mash, place potatoes into a saucepan of salted water. Bring to a simmer and cook until potatoes are tender. Drain well and peel while still hot. Press potatoes through a fine drum sieve. Repeat. Add butter and stir through until melted and combined. Gently warm the cream and milk and stir into the potato. Season to taste. Cover and set aside to keep warm.
Heat oil in deep fryer to 180C.
Carefully place the spatchcocks into the hot oil and fry for 6 minutes. Remove from the oil and carefully drain.
To serve, place spatchcocks onto a large platter. Add bowls of Paris mash, carrots and a jug of jus on the side.