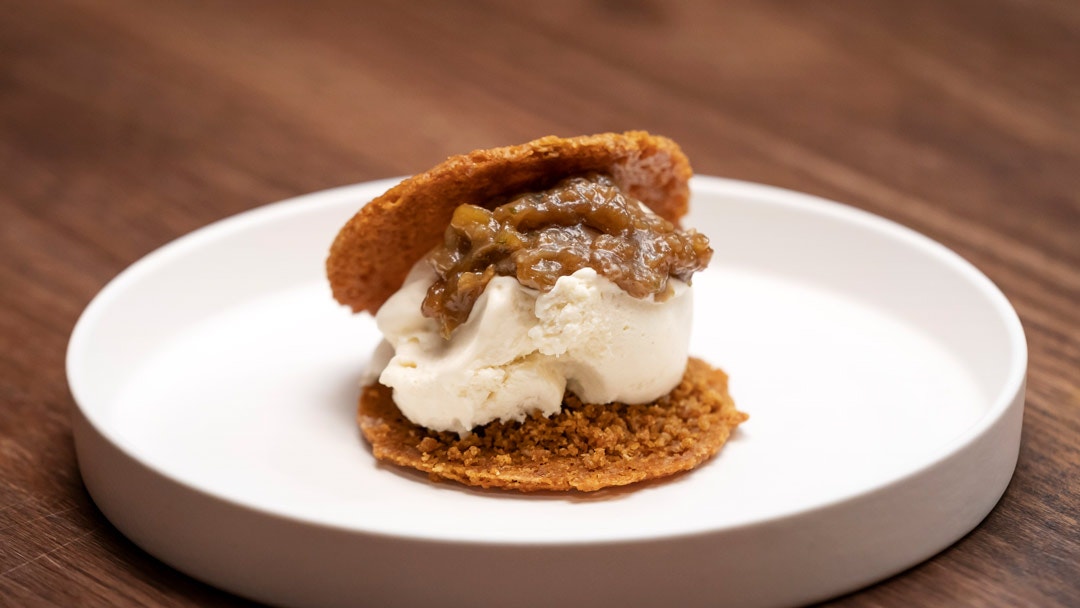 Steps
Prechill ice cream machine. Preheat oven to 180C.
For the Feijoa Ice Cream, place the ingredients into a blender and process until smooth and combined.
Pour into ice cream machine and churn according to manufacturer's instructions. Transfer to the freezer until firm.
For the Anzac Wafers, place coconut, oats and flour into a food processor or blender and process until oats are finely chopped. Transfer to a bowl. Meanwhile, place butter, sugar and golden syrup into a frypan and stir over low heat until melted. Pour into a bowl and reserve the pan.
Place hot water into a small bowl, add the bicarb soda and stir to dissolve. Stir into the butter mixture then add the dry ingredients and stir until combined.
Pour onto a large lined baking tray. Cover with a sheet of baking paper and roll out thinly. Bake until deep golden, about 9-10 minutes, turning the tray around in the oven halfway through cooking time. Remove from the oven and allow to cool slightly. Using a 7cm round cookie cutter, score 16 rounds from the baked anzac biscuit sheet. Once cool and firm, use the cookie cutter to cut the wafers out then set aside in an airtight container. Transfer the wafer offcuts to a food processor and process to a crumb. Set aside in an airtight container.
For the Feijoa Jam, place the feijoas into a small food processor and blend to a coarse puree. Return the reserved pan to a low heat. Add the feijoa puree and lime zest and stir regularly until mixture thickens, about 8-10 minutes. Remove from the heat and set aside to cool.
To serve, top 8 of the Anzac wafers with a sprinkle of crumbs, a scoop of ice cream and a little Feijoa jam. Cover with remaining wafers and served immediately.