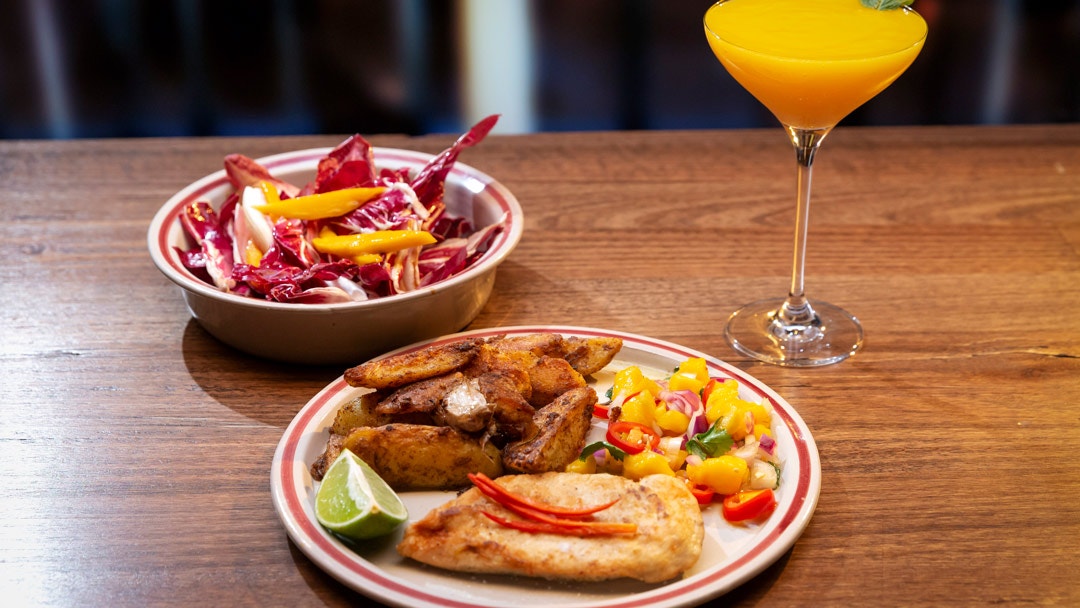 Steps
Preheat oven to 220C.
For the Mango Daiquiri, place 2 cups cubed mango into the freezer for 90 minutes.
When ready to serve, process frozen mango cubes with vodka, rum, lime juice and ice cubes in a blender until combined.
Pour into glasses with a cube of fresh mango and a mint leaf to garnish.
For the Spiced Wedges, peel potatoes and cut each into 6-8 wedges. Place into salted water, bring to the boil then simmer for 10 -15 minutes. Drain well and place into a baking dish along with rosemary and garlic. Drizzle with olive oil and season with salt.
Bake until golden and crisp, about 30 minutes. Remove from the oven and set aside.
For the Mango Salsa, combine ingredients in a small bowl and set aside.
For the Radicchio Salad, place salad leaves into a large bowl. Add vinegar and a pinch salt and toss to combine. Transfer to a large plate and arrange mango and chilli over the top.
For the Grilled Chicken, lay the chicken breasts onto a chopping board. Flatten the chicken slightly with one hand then carefully cut horizontally into 2 thin fillets. Repeat with remaining chicken. Season well with salt and pepper and dust in flour. Set aside.
Pour oil into a large frypan in a 1 cm layer, add garlic and place over medium high heat. Add the chicken and cook until golden on the outside and tender inside, about 3-4 minutes on each side. Remove from the pan and place onto a clean tray. Cover loosely with foil and set aside to rest.
To finish the Spiced Wedges, pour out some of the oil from the frying pan and return pan to the heat. Add butter and when melted, add spices and cook until fragrant, about 1 minute. Add the roasted potatoes and toss in the pan to coat in the spice mixture. Cook until crisp and golden. Remove pan from heat.
To serve, place chicken and wedges onto serving plates. Add some salad and salsa and serve with the daiquiris on the side.