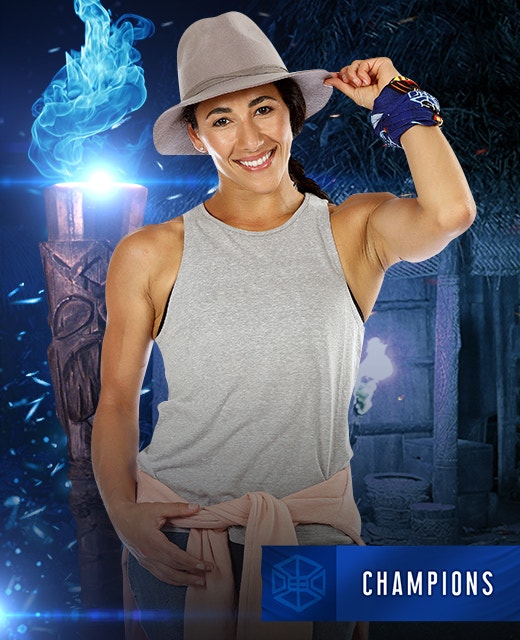 Lydia
Age: 36
Occupation: Olympic Freestyle Skier
State: VIC
Tribe: Champions
A mum of two, a five-time Winter Olympic aerial skier, entrepreneur and now Australian Survivor castaway. There's not much Lydia can't handle.
"I think Survivor is a once in a lifetime experience and definitely a challenge. Just because I'm classified as a Champion, doesn't mean it's going to be an easy ride for me. I'm looking for new challenges that will push me beyond my comfort zone and I think doing this will definitely be that!"
A gold medallist who competed in 2002, 2006, 2010, 2014 and 2018 Winter Olympic Games, Lydia has been awarded for many accolades including the prestigious "The Don" award by the Sport Australia Hall of Fame.
In 2006, Lydia's knee collapsed on impact after she attempted to land a difficult jump, forcing her to withdraw. Just 16 months later, Lydia made her comeback at the World Cup competition winning silver in her first event.
Lydia's biggest sporting achievement came at the Vancouver Winter Olympics in 2010 when she won gold in the aerials - Australia's second gold medal for the games. At the 2014 Sochi Winter Olympics Lydia became the first woman to complete the ground-breaking aerial manoeuvre: a quadruple twisting triple somersault.
Her achievements and determination became the subject of a 2016 documentary called The Will to Fly, which was released to critical acclaim.
While she's feeling confident she's got what it takes to win, Lydia doesn't want to the bad guy saying, "I think I'm very similar to Lee from the first season. I don't know if I'm as much of an asset as he was in challenges but our personalities and values are similar."
Lydia was also seen in Season 5 (All Stars) of Australian Survivor.