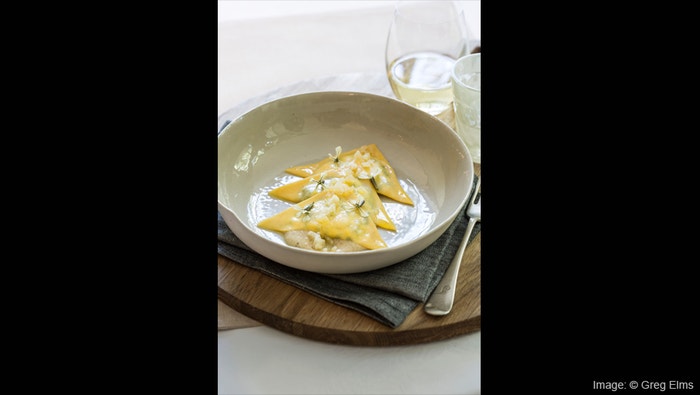 Steps
For the pasta filling, heat large pans with some olive oil and quicklysauté the rocket leaves until wilted. Remove from pans and spread ontoperforated trays to drain and cool. Run your knife through the rocket sothere are no long stringy bits.
Place the ricotta and mascarpone into a blender and blend until smooth,place into a large bowl and mix in the rocket. Season with lemon zest,nutmeg, Reggiano, salt and pepper.
For the dough, place all the ingredients into a mixing bowl with a doughhook attachment and mix on slow speed until dough has formed. Wrap in cling wrap and leave to rest in fridge for 1 hour.
Fold in a pasta machine and continue to roll and fold the pasta through the machine many times to "laminate" the pasta. Roll out the dough to about 2mm in thickness and cut into 8 x 8 cm squares. Place 15 g of filling in the centre of each square of pasta, brush a little water around the edges (just enough so the pasta sticks to itself) and fold to make a triangle. Place the finished raviolis into trays heavily dusted with durum semolina so they do not stick. Make sure the raviolis do not touch each other.
For the pesto, blend the walnuts and garlic together until finely chopped. Add the cream, oil and parmesan and blend in. Season with salt, pepper and marjoram.
To assemble, bring a large pot of salted water to the boil. Melt the butter in gastronome trays and keep warm. Cook the ravioli in the boiling water for 4-5 minutes, then remove from the water, divide into buttered gastronome trays and toss through seasoning with a little salt.
Spread a tablespoon of the walnut pesto onto each plate. Arrange 3ravioli half-sitting on the walnut pesto, sprinkle some crumbled Reggiano Parmigiano over the pasta and garnish with 5 chive flowers per serve.